Contact Us
SERVICE ACCESS
For patients aged 16 years and over

Dublin
Open 8am – 5pm Monday to Saturday
No appointment necessary.
Cork
Open 9am – 5pm Monday to Friday
About our service
Mater Private Network Emergency Departments in Dublin and Cork provide fast rapid access to specialist emergency teams when you need it most. Whether you are seriously unwell, or are concerned about a minor medical complaint, our emergency team is here for you.
Our Emergency Departments in both Dublin and Cork are fully integrated with all our other hospital services, which means that should you need scans, additional consultation with other specialists, or to be admitted into the hospital, this can happen in the same visit.
Your journey will be smooth and seamless, with access to our high-quality, acute clinical infrastructure on-site, if you need it.
Ambulance transfer: for major trauma or ambulance transfer, patients will be taken to the nearest public accident and emergency department.

Conditions treated in our Emergency Departments
Led by emergency medicine consultants, our teams manage and treat many conditions straight away, many of which are listed below.
General
Abdominal complaints
Blood in urine
Collapse
Fever
General deterioration
GI bleed (Dublin only)
Head injuries
Infection (eg soft tissue, urinary, sepsis, cellulitis, wound)
Kidney stones
Neurology
Vomiting or diarrhoea
Weight loss or decreased appetite
Pain
Back / Spinal pain
Chronic pain
Hip or knee pain
Non-cardiac chest pain
Surgical
General surgery
Gynae Oncology (Dublin only)
Orthopaedics including fracture, minor trauma (Cork only)
Urology
---
EXCEPTION: Cardiac
Suspected heart attack, chest pain, irregular heartbeat – please call or go directly to our Urgent Cardiac Care services
Any walk-in patients with cardiac symptoms will be assessed and managed by our cardiac team.

---
In cases where our service may not be the most appropriate option or is not suitable for your condition, patients will be directed to their local A&E. Our services are not suitable for cases related to:
Acute mental illness
Acute stroke / TIA
Dermatology
Metabolic medicine

Obstetrics
Ophthalmology
Paediatrics (under 16 years old)
Depending on your condition our Emergency Departments in both Dublin and Cork provide on-site access to necessary diagnostic services, investigations, and treatments as well as to an extensive clinical and medical team should the need arise:
X-ray
MRI
CT
Radiological imaging
Urgent cardiac care
Blood testing
Casting (Cork only)
Physiotherapy
Stitching
Theatre
ICU (Dublin only)
---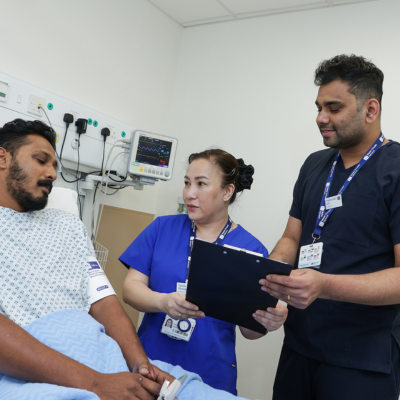 Emergency Department: what to expect
Our helpful guide on what to expect when you need to come in to our Emergency Department in Dublin or Cork.
Learn more
---

Frequently Asked Questions
Our Consultants in Dublin
Our Consultants in Cork
Dublin
Emergency Department Pricing & Insurance Cover
Learn more
Cork
Emergency Department Pricing & Insurance Cover
Learn more