Evolution and Innovation at Mater Private Network
Welcome to Evolution and Innovation at Mater Private Network, where we introduce our latest art installation, designed to connect the present and future of Mater Private Network, with the past.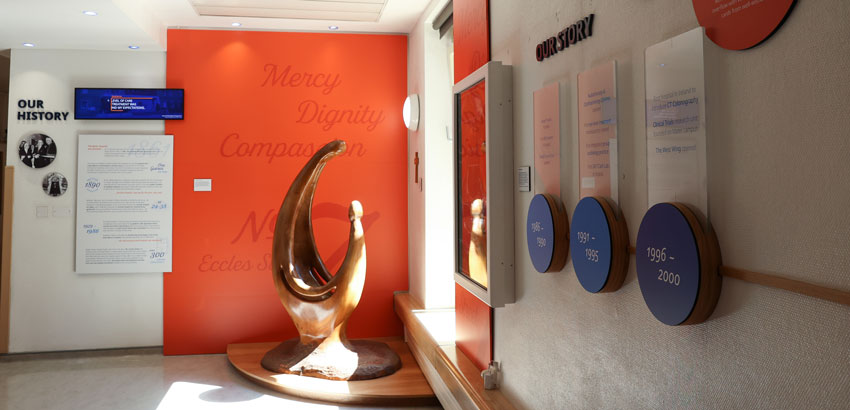 A short history
Mater Private came about out of the need to generate revenues to support the Mater Misercordiae University Hospital which was opened in Dublin by the Sisters of Mercy in 1861. The Mater as it became affectionately known was built with the goal of providing the best medical care to all who needed it, but this was costly and over time new revenue streams were needed to cover these costs. In the late 1800s, the Sisters opened the Mater Private Nursing Home, which catered for paying patients who wanted access to new innovative medical procedures. By 1929 the nursing home had three operating theatres of its own, and in 1986 the new, purpose-built Mater Private Hospital was officially opened. The first lay CEO was employed in 1996 and in 2012 Mater Private Cork opened, followed shortly by the outreach clinics, and then the Day Hospitals in 2019.
Evolution and Innovation – a permanent installation
Our Evolution and Innovation installation at Mater Private Hospital, Dublin, takes you on a fascinating journey through Mater Private's innovative and female-led past, through its transformation into a thriving national network, and beyond into the future.
The installation acknowledges Mater Private's origins by featuring unique pieces of art from our collection. The sculpture, cross and stained-glass window, together with the abridged history panel, highlight our historical connection with the Sisters of Mercy order. The legacy of the hospital's original values - compassion, respect, and dignity - remain close to our values today, with patient-focus, innovation, and a pioneering approach to treatment at the heart of everything we do.
This permanent installation is centrally located where it can be enjoyed by patients, staff and visitors to the hospital. By sharing our story, we hope to give to all of you a sense of Mater Private Network and who we are.
---
Culture of Care
While patient needs and appropriate delivery of care have changed over the years (for example from long recovery hospital stays after open surgery in the 1990s to short stays after minimally invasive surgery nowadays), our focus on delivering patient-centred care has remained and will remain consistently at the core of everything we do.
---