Robotic Surgery
Contact Us
---
Please note that a referral letter is required before an appointment can be confirmed.
About robotic surgery
Robotic surgery, or robot-assisted surgery, enables surgeons to perform minimally invasive surgery with more precision and accuracy.
At Mater Private Dublin, we use the da Vinci Surgical System for many types of complex procedures such as prostate, gynaecology, colorectal, nephrectomy and lung surgery.
Robotic-assisted surgery is a combination of a skilled surgeon working with advanced technology, to provide an effective, minimally invasive alternative to both open surgery and laparoscopic surgery.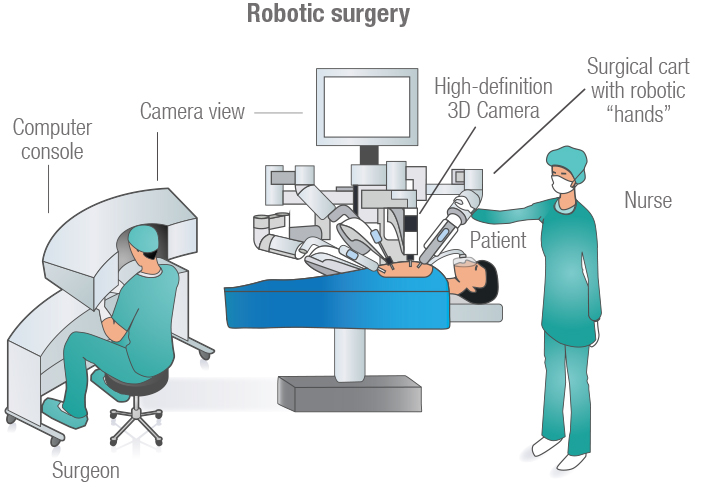 At Mater Private Network, our highly skilled surgeons use sophisticated robotic technology to enhance and complement surgical techniques, resulting in many patient benefits:
Surgeries are performed through small incisions, replacing the large incisions needed for conventional open surgeries
Significantly less pain
Less scarring
Less blood loss
Shorter hospital stay
Quicker recovery time
As well as benefiting the patients, it also has its advantages for surgeons:
Enhanced 3D view of the operating area
Improved dexterity
Greater surgical precision
Improved access
Increased range of motion

---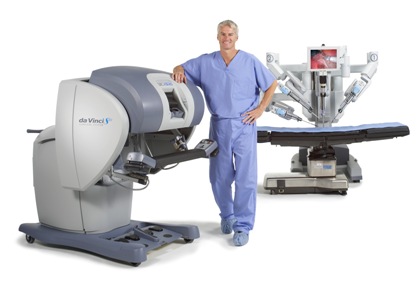 Mater Private Dublin first established a robotic-assisted surgical programme in 2010. Since then almost 2,000 patients have benefitted from this type of surgery. The programme at Mater Private Dublin is the most developed and experienced programme in the entire country. Every week our surgeons, and indeed many visiting surgeons, perform robotic-assisted procedures in our hospital with the support of a highly skilled theatre team.
How it works
The da Vinci Surgical System is a sophisticated robotic platform designed to enhance the surgeon's capabilities. It is important to distinguish that this is not a robot carrying out surgery but rather robotic-assisted surgery – using robotic technology to assist the surgeon in carrying out surgery.
It requires that every surgical manoeuvre be performed with direct input from the surgeon. The System consists of a surgeon's console and an instrument cart.
The instrument cart has four interactive robotic arms with patented EndoWrist instruments and a high-definition 3D camera.
Seated at the console, the surgeon views a high-resolution 3D image of the surgical site. At the same time, state-of-the-art robotic and computer technologies scale, filter and seamlessly translate your surgeon's hand, wrist and finger movements into precise micro-movements of the da Vinci instruments.
---
Future development
The next development planned for the robotic program is the inclusion of liver and gastric surgery, thus expanding the application of minimal access surgery to the most challenging anatomical disease locations.
---

Find out more