15th May 2023
Emergency Department: What You Should Know
Does a patient who is on long-term medication need to bring their medication with them if they are going to the Mater Private Network emergency department?
Yes. Please ensure you bring all your medications with you. The more information we have about the medications you are taking, including the dosage and frequency, the better we will understand your condition. This will help us to plan the best course of treatment for you.
If you don't have your medication with you , please bring a full, up-to-date list of what you are taking instead. Some medications may affect other medications or treatments that we would usually prescribe for your situation in the emergency department, so it's very important that we have this information at hand.
We understand that coming to the emergency department can be highly stressful, and to help remove some of this stress, we have put together the answers to some of the most frequently asked questions which we hope will help to address your concerns.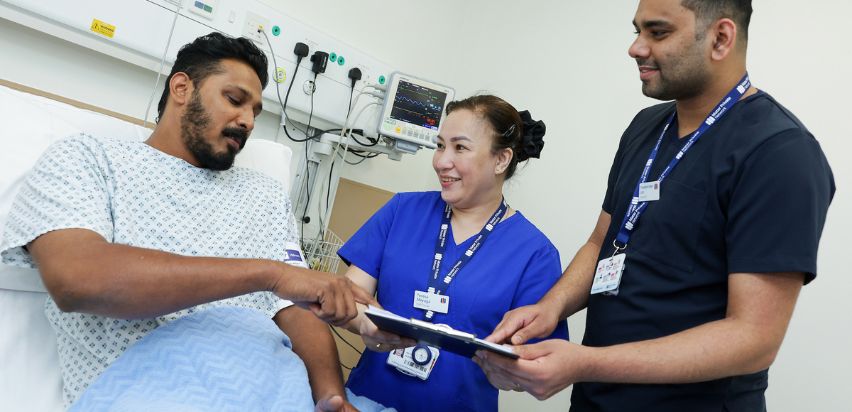 Do patients need to bring anything with them when coming into the emergency department?
Please remember to bring some photo ID , your insurance details, and a list of emergency contacts with you when you are coming in. It is a good idea to have an overnight bag ready at home in case you need to be admitted to the hospital. Your bag should contain the essentials such as a change of clothes, nightwear, toiletries, and glasses or hearing aids(s) if you use them.
Space is limited in the emergency department, and you won't always have your belongings with you, so only bring what you really need. If you are admitted, you can ask a friend or family member to bring anything else you need at that point.
How do you help patients who are in pain in the emergency department?
Our goal is to alleviate your pain as quickly and effectively as we can, while we also work to identify and resolve the cause of their pain. Depending on the type of pain, and how severe it is, we may use a combination of both medication and non-medication based techniques to help. In terms of medications, for mild to moderate pain, we use pain relievers like paracetamol, or non-steroidal anti-inflammatory drugs like ibuprofen. For more severe pain, opioid-based medications like morphine may be used. Our medical team always weighs up the risks and benefits of opioid medications for every patient, and will monitor you closely to avoid any potential adverse effects.
We know how important effective pain management is, and we will discuss your needs and concerns with you so that we can create the best pain management plan for you. We will also provide you with information and guidance on how to manage you pain after leaving the emergency department.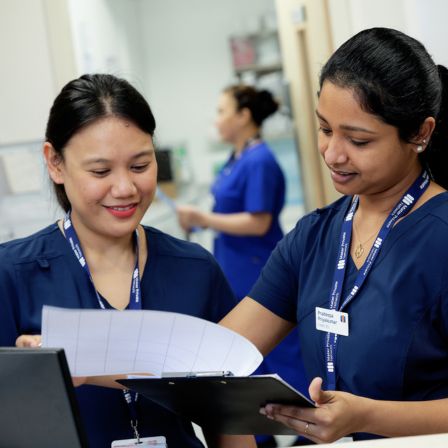 Emergency Department
Mater Private Emergency Departments in Dublin and Cork provide fast rapid access to our dedicated and specialist emergency teams when you need it most.
How do you support patients with communications or cognitive issues?
Communication can be a problem for some of our patients. We understand this, and care about your wellbeing. If you have additional support needs you can bring a family member or caregiver to the emergency department with you and this person can ask questions on your behalf and provide additional support to you.
Our emergency department team is also trained to support you in a number of different ways. When we are talking with you we will use clear and simple language and speak slowly, so that you have the time you need to process the information and to ask questions. We are conscious not to use medical language which can be confusing. We also repeat important information and then summarise the key points again to make sure that you understand what we are saying.
We are also careful to provide our patients with clear written information such as instructions, discharge summaries, and medication lists, to help both our patients and their caregivers remember important information. We understand the importance of patience and empathy in this situation, and our team will adapt their communication style as needed.
When a patient goes to the emergency department, who looks after them?
Every patient who arrives into the emergency department is seen by one of our specialist emergency department consultants, who all have extensive experience in caring for critically ill patients.
After they assess your condition, if the ED consultant decides that you need to be admitted to the hospital, you will be seen as soon as possible by a consultant who specialises in your specific medical or surgical area of need. By providing consultant-led care, patients in our emergency department can be sure of receiving the highest level of care possible.
How long do patients have to wait to be seen when they arrive in the emergency department?
Once you have registered with reception, you will meet a triage nurse who will assess your condition based on the information you provide. The nurse will measure your blood pressure, take your bloods for analysis, and carry out an ECG if necessary. After this, you will be seen by one of our emergency department consultants.
We do our absolute best to ensure that all patients are seen by a consultant within 30 minutes, but wait times can vary depending on the number of patients seeking emergency care. We prioritise patients with the greatest medical need, and who are at the greatest risk.
If patients need to have a scan when they are in the emergency department, can they get one? How quickly will they get the results?
Patients often need to be sent for CT scans, MRIs or ultrasounds as part of the diagnosis process.
Our radiology department prioritises scan results for emergency department patients to ensure that they receive fast, appropriate care. Our team fully understands the need for fast diagnosis so that emergency conditions can be treated quickly and effectively. We work very closely with the radiology department to make sure that our patients' scans are both carried out and analysed promptly.