Contact Us
Useful Information
About CT - computed tomography
Computed tomography (CT) is a painless, non-invasive scan used to detect many diseases and injuries. A CT scan takes a series of x-ray images from many angles around you and these images are then processed to produce cross-sectional images of your body.

New Cardiac CT Scanner at Mater Private Network, Cork
Together with our radiology partner, Alliance Medical Diagnostic Services, Mater Private Network in Cork is one of the first hospitals in Ireland to use a new Cardiac CT scanner that is designed for use exclusively with cardiology patients. It uses the latest state-of-the-art technology to achieve superior image quality, capturing the full heart on one image and in just one beat. The aorta is imaged in less than seven seconds, and the shorter scan times ensure the lowest possible radiation exposure for your patients. The wide-bore scanner is also a more comfortable experience, especially for patients who find it difficult in confined spaces.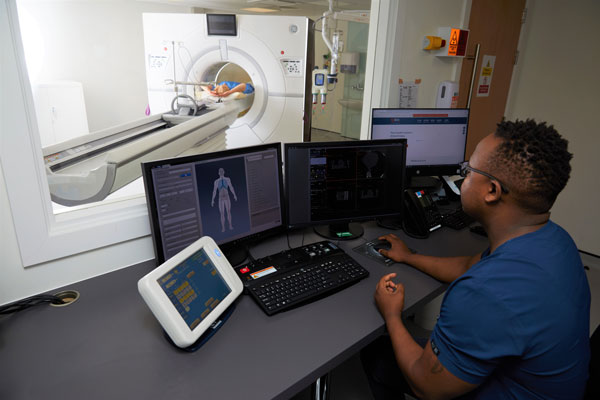 Services available include fast access to CT Angiogram and CT Cardiac Calcium Scoring. All scans will be reported on by a consultant who holds a sub-specialist fellowship in cardiac imaging.
What you should know
CT Colonoscopy scan
PDF | 157KB
CT Cardiac Coronary Angiogram
PDF | 143KB
Contrast Agents
(pdf) | 0KB
X-Rays- How safe are they
(pdf) | 0KB