Contact Us
Useful Information
About our services
At Mater Private Network in Dublin we are now offering SpaceOAR Vue™ Hydrogel: an innovative new technology for men undergoing radiation therapy for prostate cancer. SpaceOAR Vue™ Hydrogel is the next-generation hydrogel spacer that offers enhanced visibility via CT scan.
SpaceOAR® Hydrogel is a clinically proven, minimally invasive spacer designed to minimise the long-term urinary, sexual and bowel side effects and protect quality of life for prostate cancer patients undergoing radiotherapy.
This hydrogel has been designed to reduce radiation exposure to the organs surrounding the prostate. It does this by creating a space between the prostate and the rectum, preventing radiation from reaching healthy tissue in the rectum and maximising the dose to the affected prostate gland.
Next-generation SpaceOAR Vue™ Hydrogel delivers similar benefits of space as the SpaceOAR Hydrogel, plus the benefit of enhanced CT visibility to improve treatment planning.
Optimised dosing plan
Visibility of the gel on a CT scan helps to reduce under- or over-contouring of the prostate and rectum for improved accuracy, as compared to SpaceOAR Hydrogel, and helps optimize prostate radiation planning.
Streamlined workflow
Treatment planning can be done using CT only, reducing the need to acquire, reference and fuse MR and CT images with our easy-to-integrate solution. The hydrogel solution is injected through a minimally invasive procedure that temporarily positions the rectal wall away from the prostate during radiotherapy treatment. The gel remains in place for three to six months after which it is naturally absorbed by the patient's body.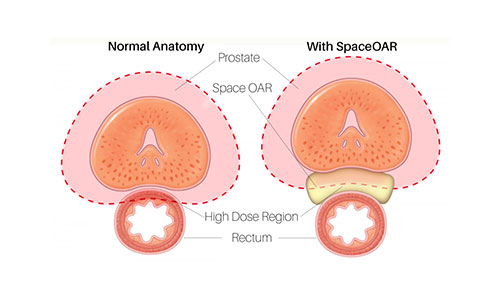 SpaceOAR® Hydrogel has now been implanted in over 100,000 patients worldwide. A three-year evaluation of the treatment results shows it to be safe and effective – with patients displaying a significant reduction in rectal toxicity from radiation and a reduction in urinary symptoms after 15-37 months.
Men who were sexually potent at the time of diagnosis were also more likely to avoid loss of sexual function after radiotherapy when they received the SpaceOAR® treatment. Mater Private Network in Dublin was the first hospital in the Republic of Ireland to introduce the SpaceOAR technology, and is now leading the way with the introduction of SpaceOAR Vue.
With the benefit of CT visibility to improve treatment planning, the SpaceOAR Vue™ procedure can be offered to suitable patients undergoing radiotherapy for prostate cancer.
Patients who wish to find out more about the SpaceOAR Vue™ Hydrogel technology and procedure can contact the Mater Private Cancer Centre by calling 01 885 8562 or emailing radiotherapy@materprivate.ie.
Our consultant