Prof. Robert Byrne
Director of Cardiology
Cardiology
Secretary contact details
Cardiology Directorate/Research (PA Contact Details)
Locations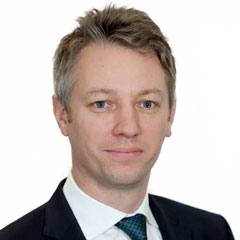 Areas of Expertise
Coronavirus and heart disease. Interventional cardiology. Antithrombotic therapy. Coronary intervention. Optical coherence tomography imaging. Interventions for hypertrophic cardiomyopathy. Left atrial appendage and patent foramen ovale closure. Transcatheter mitral valve repair.
About
Professor Robert A. Byrne is Director of Cardiology and Director of the Cardiovascular Research Institute at Mater Private Network, Dublin, Ireland, and Professor of Cardiovascular Research at RCSI University of Medicine and Health Sciences.

The Cardiovascular Research Institute Dublin (CVRI Dublin) is based in Eccles Street, Dublin and is a collaboration with the RCSI University of Medicine and Health Sciences. Its research focus is on outcomes research, clinical trials, core laboratory and systematic reviews. For more information please click on this link to the CVRI Dublin website.
Education & Experience
Prof. Byrne graduated from University College Dublin, Ireland and completed his internship and general medical training in the Mater Hospital, Dublin and Mayo Clinic, Arizona. His cardiology fellowship was in Ireland and at the German Heart Centre, Munich. Prof. Byrne has held several strategic positions at German Heart Centre, including consultant cardiologist and deputy director of Cardiology. He returned to Ireland to the role of Director of Cardiology at Mater Private Hospital and RCSI chair of Cardiovascular Research.
Special Interests
Prof. Byrne's specialty interests are in the field of general and interventional cardiology, coronavirus and heart disease. Specific areas of expertise and main research interests include acute coronary syndromes, antithrombotic therapy, clinical trials, coronary restenosis and stent failure, drug-eluting stent and drug-coated balloon technology, intravascular imaging, meta-analysis and systematic review, patient outcomes research, radiation exposure, valvular heart disease and structural heart interventions.
Clinical Research & Professional Memberships
Prof. Byrne's research awards include the European Society of Cardiology Atherothrombosis Research Fellowship (2008), the Transcatheter Cardiovascular Therapeutics Thomas J. Linnemeier Young Investigator Award (2009) and the Andreas Grüntzig Research Prize of the German Cardiac Society (2016).
His leadership roles include Secretary and Executive Committee member of the European Association of Percutaneous Coronary Intervention (2022-2024) and past Chair of its Patient Initiatives Committee and Scientific Documents and Initiatives Committee. He is Co-Chair of the European Society of Cardiology Guidelines on Acute Coronary Syndrome 2023. He is Deputy Editor at EuroIntervention and Guest Editor at Circulation. Prof. Byrne was a scientist of the German Centre for Cardiovascular Research and has published more than 300 peer-reviewed manuscripts and book chapters on coronary intervention, including in in leading journals (NEJM, the Lancet, JAMA, Circulation, JACC and the European Heart Journal).
Catheterization Laboratory trailer, Mater Private Network Heart and Vascular Centre
Interviews
Prof. Byrne on The Ray D'Arcy Show RTE Radio 1 discussing how to keep your heart healthy.
Prof. Byrne on Basically...with Stefanie Preissner discussing all things heart-related
Prof. Byrne on RTE Radio 1 discussing anti-cholesterol medication.

Our Services
Mater Private Network offers a comprehensive range of services across all health areas and in a choice of locations. Have a look at our service list and if you don't see what you are looking for, please contact us directly.
Learn more