Prof. Joseph S. Butler
Spinal Surgery
Secretary contact details
Locations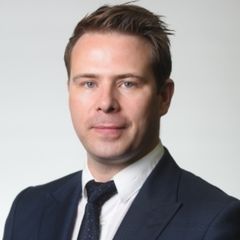 Areas of Expertise
Cervical spine surgery. Thoracic and lumbar spine surgery. Complex and revision spine surgery.
About
Education & Experience
Prof. Joseph S. Butler (PhD, FACS, FRCS) is a consultant spine surgeon at the National Spinal Injuries Unit, Mater Misericordiae University Hospital and Mater Private Hospital. He completed the National Surgical Training Programme in Trauma & Orthopaedic Surgery at the Royal College of Surgeons in Ireland. He subsequently completed clinical fellowship training in complex spine deformity and tumour surgery at the Royal National Orthopaedic Hospital, Stanmore, UK; spine trauma and degenerative spine surgery at Beth Israel Deaconess Medical Center, Harvard Medical School, Boston, USA; and complex, revision and minimally invasive spine surgery at the Rothman Institute, Thomas Jefferson University, Philadelphia, USA. He also completed visiting fellowships in spine surgery at UMC Utrecht, The Netherlands; Washington University, St. Louis, USA; and Massachusetts General Hospital, Boston, USA.
Clinical Research & Professional Memberships
He was awarded a PhD in bone biology by University College Dublin and is an active clinical and laboratory researcher. He is a clinical professor in orthopaedic surgery at University College Dublin and is director of research at the Pillar Centre for Transformative Healthcare. He has over 130 publications and 160 presentations at national and international scientific meetings. He has 30 major national and international awards for his research work and has been awarded over €4 million in research funding. He is on the editorial board of several major journals in the fields of trauma & orthopaedic surgery and spine surgery. He is secretary of the Irish Spine Society and regional director of the International Society for the Advancement of Spine Surgery (ISASS). He is a member of the AO Spine Knowledge Forum Trauma and sits on the Biologics & Basic Research Committee, Spinal Cord Injury Committee and Robotics & Navigation Committee of the North American Spine Society (NASS).
Interviews
Prof. Joseph Butler discussing Mater Private Network's spinal treatments and how to access the ROI Reimbursement Scheme.
Our Services
Mater Private Network offers a comprehensive range of services across all health areas and in a choice of locations. Have a look at our service list and if you don't see what you are looking for, please contact us directly.
Learn more