Prof. Niall Mahon
Cardiology
Secretary contact details
Locations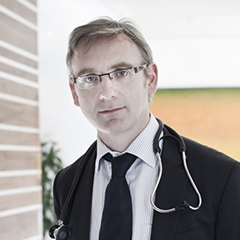 Areas of Expertise
Cardiac implantable electric devices. Heart failure and cardiomyopathy. Coronary intervention. General cardiology.
About
Education & Experience
Graduate of NUI Galway 1991.
Cardiology specialty training MMUH 1994-1997.
St George's Hospital, London, UK 1997-2000.
Cleveland Clinic, Cleveland, Ohio, USA 2000-2002.
Appointed Consultant Cardiologist MMUH 2002.
Appointed UCD Clinical Professor of Medicine 2016.
Clinical Research & Professional Memberships
UCD Clinical Professor of Medicine.
Author >100 PubMed listed peer review publications.
Fellow Irish Cardiac Society.
Fellow European Society of Cardiology.
Chair Clinical Advisory Group National Heart Program.
Catheterization Laboratory trailer, Mater Private Network Heart and Vascular Centre
Our Services
Mater Private Network offers a comprehensive range of services across all health areas and in a choice of locations. Have a look at our service list and if you don't see what you are looking for, please contact us directly.
Learn more