Prof. Mark Kennedy
Cardiology
Secretary contact details
Locations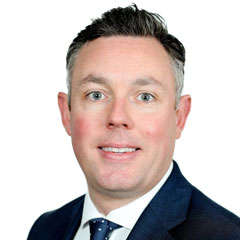 Areas of Expertise
Interventional cardiology. General cardiology.
About
Education & Experience
Prof. Mark Kennedy graduated from UCD Medical School in 2007, and had his MRCPI awarded by the Royal College of Physicians of Ireland in 2009.
As part of the national cardiology training scheme in Ireland, Prof. Kennedy worked in Beaumont Hospital, Cork University Hospital and Mater Misericordiae University Hospital before moving to the Netherlands in 2014.
There he undertook sub-specialty training in interventional cardiology focusing on complex coronary interventions at Isala Klinieken, Zwolle - one of the leading cardiac centres in Europe. He was awarded his Certificate of Completion of Specialist Training in Cardiology by the RCPI in 2016. Following his fellowship training, he remained in Zwolle as an interventional cardiologist before returning to Beaumont Hospital as a consultant cardiologist in 2017.
During his time in the Netherlands, Prof. Kennedy was heavily involved in research and authored multiple original clinical papers particularly focusing on diabetic coronary artery disease. This ultimately culminated in the award of a PhD from Radboud University, Nijmegen, the Netherlands based upon his thesis "Intra-coronary Insights in Diabetes Mellitus".
Special Interests
Prof. Kennedy's specialist area of interest focuses on all aspects of interventional cardiology, particularly PCI (angioplasty), coronary physiology, coronary imaging, chronic total occlusions and structural cardiology.
Clinical Research & Professional Memberships
In addition to his role in Mater Private Hospital, Prof. Kennedy is an honorary clinical senior lecturer with the RCSI. Prof. Kennedy is extensively published in multiple leading cardiac journals. He is a member of the European Association of Percutaneous Cardiovascular Intervention (EAPCI), and is the Irish EAPCI young national ambassador. Prof. Kennedy has been an investigator in numerous international clinical trials, has served on multiple clinical trial adjudication boards and is actively involved in several multi-centre clinical trials in interventional cardiology.
Catheterization Laboratory trailer, Mater Private Network Heart and Vascular Centre
Our Services
Mater Private Network offers a comprehensive range of services across all health areas and in a choice of locations. Have a look at our service list and if you don't see what you are looking for, please contact us directly.
Learn more