Ms. Liza McLornan
Urology
Secretary contact details
Locations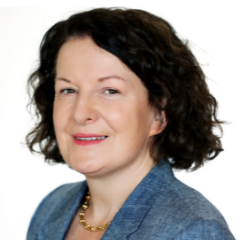 Areas of Expertise
Male and female general urology. Urinary tract infections. Benign prostate disease. Prostate cancer diagnostics. Haematuria investigations. Renal cancer. Laparoscopic renal surgery. Endourology and stone disease. Extracorporeal shock wave lithotripsy (ESWL).
About
Education & Experience
Liza graduated from UCD in 1996 and underwent basic surgical training in Dublin. Having completed her MCh thesis in prostate cancer translational research in UCD (NUI) she moved to Edinburgh to complete her higher surgical training in urology. During her training she spent two years in the Scottish Lithotriptor Centre at the Western General Hospital, Edinburgh where she undertook sub-specialty training in stone disease and endourology.
She was appointed as consultant urological surgeon to NHS Fife and honorary senior lecturer at St Andrew's University in 2009.
She returned to Ireland in September 2016 and currently works as a consultant urological surgeon at Beaumont and Connolly Hospitals, in addition to her appointment at Mater Private Hospital.
Special Interests
Liza practices a wide range of urology encompassing lower urinary tract dysfunction in male and female patients, UTIs, bladder, prostate and renal cancer. Her sub-specialty interest includes the management of urinary stone disease.
Our Services
Mater Private Network offers a comprehensive range of services across all health areas and in a choice of locations. Have a look at our service list and if you don't see what you are looking for, please contact us directly.
Learn more