Mr. Ruaidhrí M. McVey
Gynaecology
Secretary contact details
Locations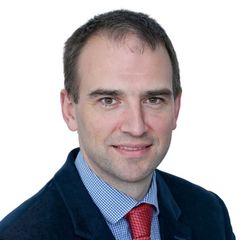 Areas of Expertise
Gynaecological oncology. Laparoscopic/minimally invasive surgery. Robotic surgery. Hysterectomy. Complex pelvic surgery (masses). Ovarian cysts. Cervical and endometrial polyps. Risk reducing surgery. Ovarian cancer risk assessment and management.
About
Education & Experience
In 2002, Mr. McVey graduated from the Royal College of Surgeons in Ireland MB BCh BAO LRCP&SI (Hons). Prior to commencing his training in obstetrics and gynaecology he completed basic surgical training at Mater Misericordiae University Hospital in 2005 and was awarded MRCSI. Subsequently Mr. McVey was awarded dual memberships of the Royal College of Physicians in Ireland, MRCPI, and the Royal College of Obstetricians and Gynaecologists UK, MRCOG. Mr. McVey received his academic doctorate, MD, from the National University of Ireland in 2013 for his curriculum development work in the field of obstetrics and gynaecology with the Royal College of Surgeons in Ireland [RCSI]. This work continues to form the keystone to the delivery of medical education across the RCSI faculties and campuses worldwide.
Having commenced his obstetrics and gynaecology training in Ireland, Mr. McVey was accepted onto the National Higher Surgical Training Scheme for obstetrics and gynaecology in 2009. At the end of his surgical training in Ireland, he received his Certificate of Satisfactory Completion of Specialist Training (CSCST), indicating proficiency in all aspects of obstetrics and gynaecological surgery.
In 2015, Mr. McVey was the only person to successfully complete the internationally renowned three year gynaecologic oncology fellowship program through the University of Toronto based at the Princess Margaret Cancer Center and the Sunnybrook Health Sciences Center. This is the only gynaecological oncology fellowship worldwide, that holds dual accreditation by the Royal College of Obstetricians and Gynaecologists in UK and the Royal College of Physicians and Surgeons in Canada. Mr. McVey was trained in the most advanced surgical techniques for the management of gynaecological cancers. In particular, Mr. McVey was trained in up front primary surgery for ovarian cancer and minimally invasive surgery (laparoscopic and robotic surgery). Specifically, Mr. McVey is the only gynaecologist in Ireland who has completed a robotic surgery training programme as an integral component of a gynaecological oncology fellowship.
Mr. McVey is actively involved in the training of our future obstetricians and gynaecologists. He is an examiner for the Royal College of Surgeons in Ireland, Royal College of Physicians in Ireland and the Institute of Obstetricians and Gynaecologists of Ireland, where he is a member of the Board of Examiners. In addition, he was awarded a master's in clinical education from University College Galway and a master's in healthcare leadership and management from the RCSI.
In 2015, Mr. McVey returned from Canada to the role of Assistant Master at the Rotunda Hospital prior to commencing independent practice at Mater Hospitals and the National Maternity Hospital.
Special Interests
Mr. McVey is pleased to assist in the management of general gynaecological conditions. In addition, his specialist interests include: minimally invasive surgery (specifically robotic surgery) for uterine, cervical, vulval cancers and upfront primary debulking surgery for ovarian cancer, as well as prophylactic risk reducing surgery for hereditary breast and ovarian cancers.
In addition to general gynaecology Mr. McVey provides special interest clinics:
Complex pelvic surgery
Giant ovarian cysts
Ovarian cancer
Surgical staging for gynaecological malignancies
Minimally invasive surgery/robotic assisted surgical techniques
Endometrial cancer
Risk reducing surgery for patients affected by hereditary cancer syndromes – BRCA 1 & 2, Lynch syndrome
Surgical staging for gynaecological malignancies
Fertility sparing surgery
Radical hysterectomy
Simple hysterectomy
Rapid access assessment
Post-menopausal bleeding
Complex ovarian cysts
Abnormal appearing cervix
Our Services
Mater Private Network offers a comprehensive range of services across all health areas and in a choice of locations. Have a look at our service list and if you don't see what you are looking for, please contact us directly.
Learn more