Mr. Peter Samuels
Spinal Surgery
Locations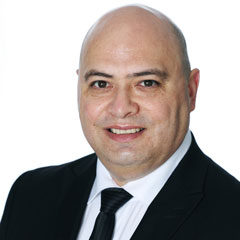 About
Education & Experience
Mr. Peter Samuels completed his MBChB in 1997 at the University of Pretoria and worked at various public hospitals throughout South Africa. He then obtained a Diploma in Anaesthetics in 2001 with the Colleges of Medicine of South Africa. He chose to broaden his career during 2002 in the United Kingdom and Ireland where he worked as a RMO in various hospitals, ICU departments and emergency rescue teams.
Upon return to South Africa, Mr. Samuels worked within the departments of general surgery, anaesthetics and trauma until becoming a neurosurgery registrar in 2006 at the University of Pretoria. He qualified with a Master of Medicine in Neurosurgery in 2011 and began working as a cranial and spinal surgeon in private practice at various hospitals on the north and south coast of Kwa-Zulu Natal (South Africa).
Mr. Samuels then completed the Fellowship of Neurosurgery qualification in 2017 with the Colleges of Medicine of South Africa. He continued with private practice in South African until February 2023, when he made the decision to relocate to Ireland and work as a spinal surgeon with the team at the Poynton SpineCare Institute and Mater PrivateNetwork.
He has obtained many other certifications to date including ABIME, ATLS Instructor (South African Trauma Association), Gamma Knife Radiosurgery (University of Pittsburgh, USA), Endoscopic Spinal Surgery (Joimax, Austria), Microvascular Neurosurgery (Macquarie University, Australia) and Neuromodulation (Medtronic, France). He continues to attend webinars and workshops on both cranial and spinal surgery for professional development.
Special Interests
His special interests include degenerative conditions of the cervical and lumbar spine, spinal trauma, spinal cord injuries, spinal tumours, dorsal column stimulators, interventional pain management, awake fluorescent guided cranial tumour resection, minimally invasive and endoscopic spine surgery. He also manages non-operative conditions of the spine and has a keen interest in spinal rehabilitation.
Clinical Research & Professional Memberships
Eurospine
European Association of Neurosurgical Societies
American Association of Neurological Surgery
South African Medico-legal Association
South African Medical Association
World Institute of Pain
World Federation of Neurosurgical Societies.
AO Spine
Society of Neurosurgeons of South Africa
The South African Spine Society
The Trauma Society of South Africa
Our Services
Mater Private Network offers a comprehensive range of services across all health areas and in a choice of locations. Have a look at our service list and if you don't see what you are looking for, please contact us directly.
Learn more