Mr. Pavi Agrawal
Ophthalmology
Secretary contact details
Locations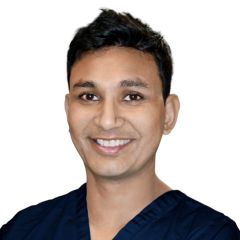 Areas of Expertise
Medical and surgical glaucoma treatment. Selective laser trabeculoplasty. Minimally invasive glaucoma surgery. Cataract surgery.
About
Mr. Pavi Agrawal is a Consultant Ophthalmologist at Mater Private Network in Dublin.
Education & Experience
Mr. Agrawal's training has been in international centres of excellence. In 2002, he graduated from Cambridge University UK, having read medicine at Downing College, Cambridge. He also holds a first-class honours degree in biochemistry. He completed a two-year medical and surgical glaucoma fellowship at the world prestigious Moorfields Eye Hospital, where he worked closely with two of the UK's founding fathers of modern-day glaucoma filtration surgery. Prior to Mr. Agrawal's appointment to Mater Private Network he held the post of consultant ophthalmologist and honorary assistant professor at Nottingham University NHS Trust, UK for almost 10 years.
Special Interests
Mr. Agrawal's subspecialty interests include small incision cataract surgery; glaucoma laser therapy (selective laser trabeculoplasty and cyclodiode); traditional glaucoma filtration surgery (trabeculectomy, aqueous-shunt tube surgery); minimally invasive glaucoma surgery (preserflo microshunt, iStents, viscocanaloplasty and trabeculotomy).
Clinical Research & Professional Memberships
Mr. Agrawal is the author of over 20 peer-reviewed scientific papers as well as a book chapter in the world's best-selling glaucoma textbook. He has recruited patients to major international glaucoma studies including the LIGHT trial and TAGS. His dedication to ophthalmic teaching and research was recognized with the appointment to honorary assistant professor by the University of Nottingham, School of Medicine in 2020. He also holds a distinction in a postgraduate diploma in cataract and refractive surgery conducted by Ulster University and approved by the Royal College of Ophthalmologists.
Mr. Agrawal is a fellow of the Royal College of Ophthalmologists as well as a member of the European Glaucoma Society, the UK & Eire Glaucoma Society and the UK & Eire Society of Cataract and Refractive Surgeons.
Our Services
Mater Private Network offers a comprehensive range of services across all health areas and in a choice of locations. Have a look at our service list and if you don't see what you are looking for, please contact us directly.
Learn more