Prof. Conor Shields
Colorectal Surgery, General Surgery
Secretary contact details
Locations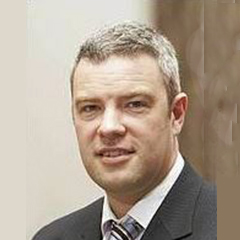 Areas of Expertise
Colorectal cancer. Gastroenterology.
About
Prof. Shields (BSc, MD, FRCSI) is a consultant surgeon at Mater Misericordiae University Hospital and Mater Private Hospital. He joined the staff after completing surgical training in Ireland, followed by a fellowship in rectal cancer surgery and advanced laparoscopic surgery at Hopital Saint-Antoine, Paris. His specialty interests include laparoscopic surgery, rectal cancer, inflammatory bowel disease, surgical endoscopy, and medical informatics. Prof. Shields is involved in numerous research projects, clinical and laboratory-based, both within UCD and iCore (Institute for Clinical Outcomes, Research, and Education).
Specialty Interests
Advanced laparoscopic surgery
Colorectal cancer
Inflammatory bowel disease
Abdominal wall reconstruction
Achievements
Recipient of the Dr Richard Steevens Scholarship in 2007
Delivered the 31st Millin Lecture
Memberships
European Association of Endoscopic Surgeons
European Association of Coloproctology
Association of Laparoscopic Surgeons of Great Britain and Ireland
Society of Academic and Research Surgery
Professional Memberships
Fellow, Royal College of Physicians of Ireland (2020).
Fellow, Faculty of Sports & Exercise Medicine (RCPI & RCSI, 2020).
Osteoarthritis Research Society International (OARSI) member.
Group for Research and Assessment of Psoriasis and Psoriasis Arthritis (GRAPPA) member.
American College of Rheumatology (ACR) member.
Irish Medical Council.
Our Services
Mater Private Network offers a comprehensive range of services across all health areas and in a choice of locations. Have a look at our service list and if you don't see what you are looking for, please contact us directly.
Learn more