Mr. Adeel Memon
Orthopaedics
Secretary contact details
Locations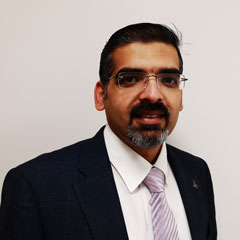 Areas of Expertise
Hallux valgus (bunion) and lesser toe corrections. Arthritis of forefoot. Midfoot and hindfoot. Ankle arthroscopy. Sports injuries including osteochondral lesions, ankle instability and tendon disorders. Total hip and knee replacements. Arthroscopic knee surgery. Joint replacements for hips and knees.
About
Education & Experience
Mr. Adeel Memon graduated from Dow Medical College Karachi in 2003 and subsequently moved to Ireland for higher surgical training. After completion of basic surgical training, he was appointed on the Irish higher surgical training programme in trauma and orthopaedics in 2013 which started in University Hospital Waterford and completed at Cork University Hospital in 2018. He was awarded the fellowship of Royal College of Surgeons in Ireland in 2017.
Following on from his training in Ireland, Mr. Memon embarked upon a two-year sub-specialty fellowship training in lower limb arthroplasty and foot and ankle surgery. The first year was at the prestigious University of Otago Dunedin New Zealand where he refined his primary hip and knee arthroplasty skills and learned various new techniques of revision hip and knee arthroplasty. He was also a senior lecturer with University of Otago undertaking medical students teaching in trauma and orthopaedics.
Subsequently, Mr. Memon moved to Newcastle where he did a dedicated foot and ankle fellowship. Working with four full time foot and ankle surgeons he gained fantastic experience in all aspects of foot and ankle surgery. Being one of the largest tertiary referral centres for foot and ankle pathology in England, Newcastle is a centre of excellence for treatment of patients requiring primary and revision foot and ankle reconstructions.
Special Interests
Mr. Adeel Memon has carried out complex foot and ankle reconstructions including the treatment of early and end stage ankle arthritis, arthroscopic and open cartilage preservation techniques, treatment of ankle osteochondral lesions, pathologies of Achilles tendon as well midfoot and forefoot corrections utilising various osteotomies, arthrodesis and soft tissue procedures.
Clinical Research & Professional Memberships
During his training, he has published various scientific papers in peer reviewed journals and have presented at national and international meetings. He was awarded Master of Surgery (MCh) in 2011 by the Royal College of Surgeons in Ireland.
Interviews
Mr. Memon on RTE Today Show discussing arthritis.
Our Services
Mater Private Network offers a comprehensive range of services across all health areas and in a choice of locations. Have a look at our service list and if you don't see what you are looking for, please contact us directly.
Learn more