Dr. Talal Ibrahim
Cardiology
Secretary contact details
Locations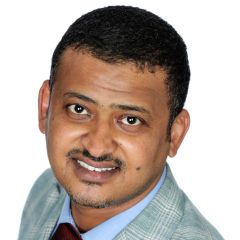 Areas of Expertise
Interventional cardiology.
About
Education & Experience
Dr. Talal Ibrahim graduated from Alzaiem Alazhari University in Sudan in 2004, before moving to Qatar where he completed a four-year residency training programme in internal medicine. This was followed by a three-year fellowship in general cardiology at Hamad Medical Corporation affiliated with Weil Cornel College in Qatar and accredited by Accreditation Council for Graduate Medical Education–International. Dr. Ibrahim was subsequently certified in internal medicine and general cardiology from the Arab Board of Health Specializations, and was awarded his MRCP (UK) in 2013. He moved to Ireland in 2016 where he worked at Mater Misericordiae University Hospital and Beaumont Hospital in Dublin, before joining Mater Private Network in Dublin as a consultant cardiologist in 2023.
Special Interests
Dr. Ibrahim completed a two-year fellowship in interventional cardiology at Mater Private Hospital, with a particular focus and interest in the areas of PCI, coronary physiology, coronary imaging.
Clinical Research & Professional Memberships
Dr. Ibrahim is a member of the European Association of Percutaneous Cardiovascular Intervention (EAPCI), and the European Society of Cardiology.
Our Services
Mater Private Network offers a comprehensive range of services across all health areas and in a choice of locations. Have a look at our service list and if you don't see what you are looking for, please contact us directly.
Learn more