Dr. Rahim Khan
Gastroenterology
Secretary contact details
Locations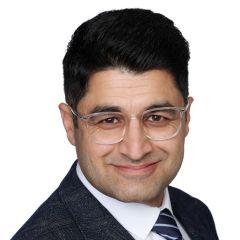 Areas of Expertise
Advanced therapeutic GI endoscopy. Hepatology. Hepato-pancreato-biliary medicine (HPB). General Gastroenterology.
About
Education & Experience
Dr. Rahim Khan graduated and completed his MBBS Degree with honours in 2008 in Pakistan, where he was awarded a Gold Medal by the university for his academic achievements. After graduation, Dr. Khan moved to University Hospital Galway where he completed Royal College of Physicians of Ireland accredited Basic Specialist Training (BST) in general medicine. During his BST, Dr. Khan also completed an MSc in clinical research from NUI Galway, the main focus of which was role of Infliximab in inflammatory bowel disease. Dr. Khan remained as a senior lecturer in gastroenterology at NUI Galway after completion of his BST. He was then appointed to the higher specialist training programme by the Royal College of Physicians (RCPI) in gastroenterology for five years, after which he was awarded CSCST (Certificate of Successful Completion of Specialist Training) by RCPI. Dr. Khan regards the CSCST in gastroenterology as his greatest professional achievement. During this training Dr. Khan worked in several hospitals in Dublin, including St. James's Hospital, Tallaght Hospital and the Mater Misericordiae University Hospital.
Prior to taking up a consultant role in Ireland, Dr. Khan moved to England to complete a fellowship in advanced therapeutic endoscopy at one of the major centres in NHS England, gaining expertise in procedures such as ERCP, EUS, polypectomy, upper and lower GI stenting and GI bleeding therapy. Dr. Khan was subsequently appointed as consultant gastroenterologist in the same NHS unit, where he was also responsible for running the local HPB service. Due to strong social and family ties in Ireland, he returned to Dublin in 2023 and joined Mater Private Network as consultant gastroenterologist and advanced endoscopist.
Special Interests
Gastroscopy (OGD). Colonoscopy. ERCP (endoscopic retrograde cholangiopancreatography) and EUS (endoscopic ultrasound). GERD (gastroesophageal reflux disease). GI bleeding therapy. Endoscopic management of bile duct stones. Liver, gallbladder and pancreatic diseases. Inflammatory bowel disease and coeliac disease. Irritable bowel syndrome (IBS), hepatology.
Clinical Research & Professional Memberships
Dr. Khan conducted and published research articles throughout his training and as a consultant, including published research in world-renowned journals such as the British Medical Journal. The main focus of his research is advanced endoscopy, inflammatory bowel disease, coeliac disease, and endoscopic management of bile duct stones.
Recently Dr. Khan was appointed as regional lead to run the National Upper GI bleed Audit by NHS England which is still in progress. Dr. Khan is a member of the Royal College of Physicians of Ireland, Irish Society of Gastroenterology, British Society of Gastroenterology, and American Society of Gastroenterointestinal Endoscopy. He is also JAG (Joint Advisory Group) certified endoscopist in the UK.
Our Services
Mater Private Network offers a comprehensive range of services across all health areas and in a choice of locations. Have a look at our service list and if you don't see what you are looking for, please contact us directly.
Learn more