Dr. Daniel Cagney
Oncology (Radiation Oncology)
Secretary contact details
Locations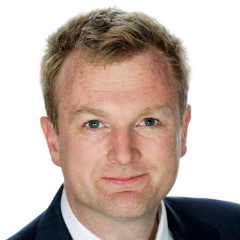 Areas of Expertise
Brain and spine metastases. Stereotactic body radiation therapy (SBRT). Stereotactic radiosurgery (SRS). Breast, genitourinary, thoracic and gastrointestinal tumours.
About
Education & Experience
Dr. Daniel Cagney is clinical director of radiation oncology at Mater Private Hospital, Dublin and network director of stereotactic radiation.
Dr. Cagney's internship and general medical training was in the Mercy Hospital Cork and Beaumont Hospital, Dublin. He did a year in medical oncology in Mater Hospital before commencing specialist training in radiation oncology in St Luke's Hospital, Dublin. In parallel to his radiation oncology training, he received a MSc in oncology and palliative care from Newcastle University. His radiation oncology fellowship was in Dana-Farber/Brigham and Women's Cancer Center, Boston. He is a fellow of the Faculty of Radiologists of the Royal College of Surgeons in Ireland (FFR RCSI) and a diplomate of the American Board of Radiology (DABR).
Since 2017 he has held several strategic positions at Dana-Farber/Brigham and Women's Cancer Center, including consultant radiation oncologist, director of stereotactic radiation and director of MRI Guided Radiation Programme. He held the academic appointment of assistant professor at Harvard Medical School.
Special Interests
Dr. Cagney's specialty interests are in the field of stereotactic radiation and management of breast, genitourinary, thoracic and gastrointestinal malignancies. His specific areas of research expertise are evaluating the integration of systemic therapies with stereotactic radiation and developing a biomarker glossary from CNS tumours. He has previously identified an unreported pattern of intracranial failure in neuro-oncology and initiated the first trial of its kind to assess the safety and efficacy of combination stereotactic radiation and nanoparticles for patients with centrally located NSCLC and pancreatic cancer.
Clinical Research & Professional Memberships
Dr. Cagney's research and educational awards include the Richard Steevens Scholarship (2015), the St. Luke's Institute of Cancer Research Award (2016) and the Association of Residents in Radiation Oncology (ARRO) Educator of the Year (2020).
Dr. Cagney was a clinical researcher at Harvard Medical School and Dana-Farber/Brigham and Women's Cancer Center. He published more than 70 peer-reviewed manuscripts and book chapters in leading academic journals (New England Journal of Medicine, the Lancet, Journal of Clinical Oncology, JAMA Oncology, Radiotherapy & Oncology and International Journal of Radiation Oncology, Biology & Physics).
Dr. Cagney's leadership roles include co-chair of executive summary of the American Radium Society Appropriate Use Criteria for Treatment of Spinal Re-irradiation, Viewray CNS Consortium member and membership of the American Society of Radiation Oncology (ASTRO) and European Society for Therapeutic Radiology and Oncology (ESTRO). In addition, he serves as an ad hoc reviewer for a number of high impact research journals.

Our Services
Mater Private Network offers a comprehensive range of services across all health areas and in a choice of locations. Have a look at our service list and if you don't see what you are looking for, please contact us directly.
Learn more