16th December 2022
A tribute to Professor Declan Sugrue – our beloved and visionary cardiologist with a penchant for Smarties
This week we are marking the recent retirement of our esteemed colleague and good friend, Prof. Declan Sugrue, who is well-known to the whole Irish medical community. Since he, together with colleague and friend Dr. Hugh McCann, set up the group cardiology department at Mater Private in Dublin, Prof. Sugrue has cared for countless people during his extensive career as an interventional cardiologist.
Originally from Kerry, to where he remained strongly connected no matter where he lived, he graduated from NUI Galway in 1976, before continuing his medical training at the RCPI. After a period of time in the UK and America, he returned to Ireland and "pioneered procedures that were new to Ireland, and placed Mater Private at the cutting edge of world-wide practice."
Amongst the countless cutting-edge developments led by Prof. Sugrue for Mater Private during his tenure was the establishment of our cardiology department, with an initial tiny team of three, which flourished under his guidance. He was referred to as 'the pioneer of angioplasty', and carried out the first angioplasty in Mater Private Hospital Dublin the year it opened. He also set up the electrophysiology service the same year before handing it over to electrophysiology specialists. As one of our founding members, he was instrumental in the building of the modern hospital and long before it was standard practice, he set up an undocumented 'on-call system' where the cardiology team all came together for an emergency case day or night. More recently he led the design, set up and launch of our 24/7 Urgent Cardiac Care service.
Highly respected, he always acknowledged the 'outstanding cardiac nursing, technical and radiographic staff' who worked with him, saying that 'taking care of patients is a team effort.' He remained Director of Cardiology until 2019 when Prof. Robert Byrne took over the position.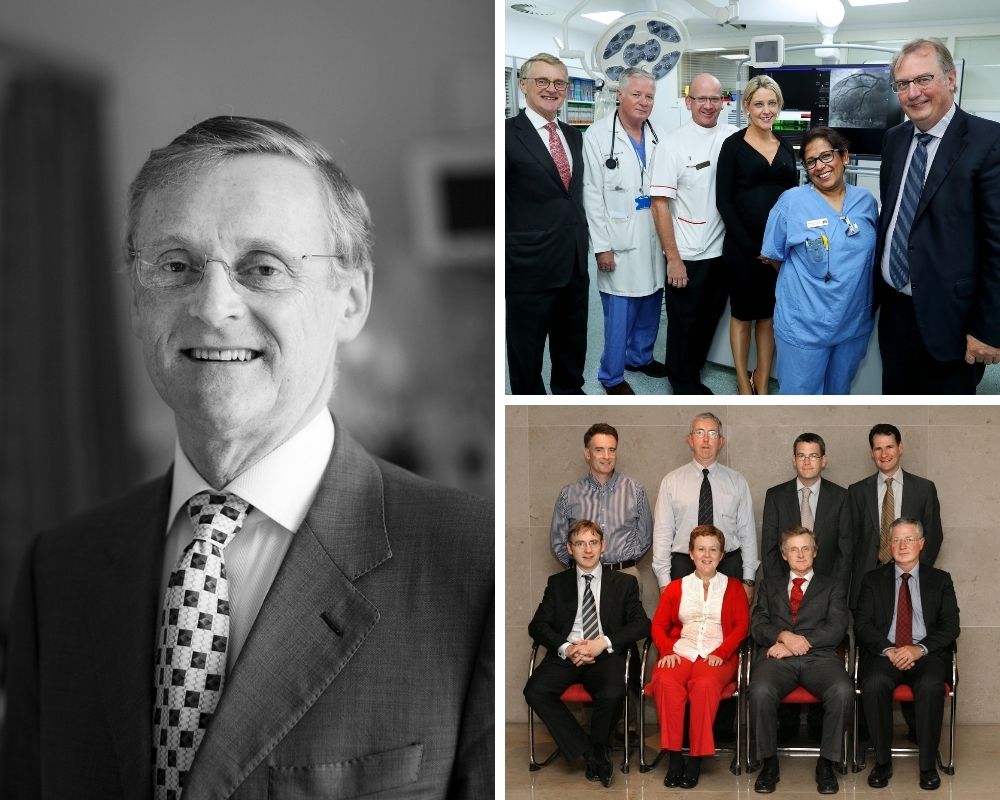 As a person, Prof. Sugrue is described variously by colleagues as 'a visionary', 'the perfect gentleman', 'the nicest person to work with', 'hugely conscientious' and 'very respectful' of others. Always professional, he was inclusive before inclusive became a 'thing', and was seen to have empowered his colleagues before empowerment was a 'thing. He took time to talk to the nurses and would answer any question they had. He is charismatic and led by example. In the early days as the cardiology department was being set up, he often started work in at 6am and after spending most of the day in the Mater Misercordiae, returned to Mater Private to work until 10 or 11 at night.
Key to his enduring popularity and success is that Prof. Sugrue is as interested in people as he is in medicine. Colleagues tell of how patients 'adore' him for his sense of humour, his down to earth manner and for his evident care for their wellbeing. Many refer to him as a 'good friend' and some at one time were known to bring gifts such as fish, or Christmas cake in lieu of payment. His penchant for Smarties is well known among his colleagues at Mater Private, but perhaps less well known is the fact that he is a Gaeilgeoir, plays the piano, and once cycled across North America to raise money for charity. His roots in Kerry are strong, and he loves everything to do with Irish culture.
During his time with Mater Private Network, he also maintained a stellar academic career. He is a Professor in University College Dublin with over 200 published academic papers and is also a fellow of the Royal College of Physicians in the UK & Ireland and the American College of Cardiology. In addition he has held and continues to hold many prestigious positions, including President of the Irish Cardiac Society and of the Irish Heart Foundation.

While Prof. Sugrue is retiring from clinical practice he will continue his career in Academia and will sit on the Advisory board for the cardiology department in Mater Private Network.
We would like to express our gratitude to Prof. Sugrue for his decades of service to Mater Private Network and the incredible impact he has had not only on cardiology research and practice in Ireland, but on all of us.