Prof. Martin O'Connell
Radiology
Locations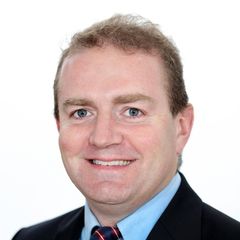 Additional Services
Radioisotope Therapy for Cancer (Molecular Radiotherapy or Radioligand Therapy (RLT)).
Areas of Expertise
Functional brain imaging. Isotope therapy for hyperthyroidism. Nuclear cardiology. PET/CT. Prostate cancer imaging. Thyroid and parathyroid disease.
About
Dr Martin O'Connell MB BaO BCh MRCPI FFRRCSI
UCD Clinical Professor
Consultant Radiologist with Special Interest in Nuclear Medicine
Education and Experience
Qualified from UCD June 1994. Internal Medicine training in the Federated hospitals training scheme achieving MRCPI in June 1996
Radiology training Mater University Hospital, with combined MSK/IR fellowship in Cappagh/SVUH
Abdominal Imaging, Abdominal Intervention and Nuclear Medicine Fellowship Training Duke University Medical Centre, North Carolina (2002 to 2004)
Breast Radiologist specialist (2004-2019)
Chairperson and subsequently the first Clinical Director Department of Radiology, Mater University Hospital (2012-2015)
Current Appointments
Mater Misericordiae University Hospital
Mater Private Hospital
Medical director, Mater PET/CT Centre
Special Interests
Radioligand therapy for Prostate Cancer
Radium 223 Therapy
Prostate Biopsy
PSMA PET/CT
All aspects Nuclear Medicine Imaging
DAT Scan
Thyroid and Parathyroid Imaging
I-131 Therapy for hyperthyroidism
Cardiac DPD Scanning
Clinical Research and Professional Memberships
Chairperson of the Irish Nuclear Medicine Association (2014-)
Irish National Delegate for Nuclear Medicine to the EANM, the EU recognised organisation for Nuclear Medicine in Europe
Interest in Brain PET/CT research
Weekly and Monthly attendance: Oncology MDT, Urology MDT, Thyroid MDT
Our Services
Mater Private Network offers a comprehensive range of services across all health areas and in a choice of locations. Have a look at our service list and if you don't see what you are looking for, please contact us directly.
Learn more