Prof. Fergal O'Duffy
ENT, Paediatrics
Secretary contact details
Locations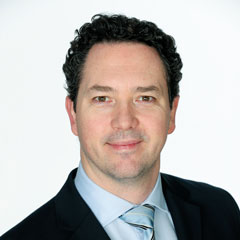 Areas of Expertise
General ENT. Head and neck oncology. Thyroid disease. Salivary gland disease. Sinus disease. Transoral robotic head and neck surgery.
About
Education & Experience
Prof. Fergal O'Duffy is an alumni of University College Dublin, King's College London and Trinity College Dublin. He undertook sub specialty training in Ireland before gaining fellowship of the Royal College of Surgeons. He subsequently undertook a surgical head and neck oncology fellowship in the Peter Mac Callum Cancer Centre in Melbourne, with a sub speciality interest in robotic head and neck surgery. He returned to Dublin in 2019 and commenced his public practice at University College Dublin and its affiliated hospitals the Mater Misericordiae and St Vincent's University Hospitals.
Clinical Research & Professional Memberships
Prof. O'Duffy has an academic appointment to the School of Medicine, University College Dublin as the professor of otolaryngology head and neck oncology. He has published on a wide variety of otolaryngology topics notably his subspecialiy interest in benign and malignant head and neck disease. Prof. O'Duffy is a fellow of the International Federation of Head and Neck Oncological Societies. He is Member of Cancer Trials Ireland.
Our Services
Mater Private Network offers a comprehensive range of services across all health areas and in a choice of locations. Have a look at our service list and if you don't see what you are looking for, please contact us directly.
Learn more