Prof. David Gallagher
Oncology (Medical Oncology), Cancer Genetics
Secretary contact details
Locations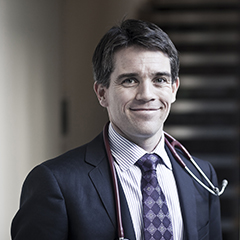 Areas of Expertise
Breast cancer. Clinical and translational research. Clinical trials. Colorectal cancer. Genitourinary cancer. Gynaecological cancer. Medical genetics. Onco-genetics clinic. Sarcoma.
About
Education & Experience
Prof. David Gallagher is a consultant medical oncologist and consultant medical geneticist. He graduated from UCD, and trained on the Irish specialist registrar scheme in medical oncology. He was awarded the first ISMO Fellowship to MSKCC in 2006, and uniquely completed training in both Medical Oncology and Medical Genetics between Memorial Sloan Kettering Cancer Centre, and New York Presbyterian Cornell University Hospital.
Prof. Gallagher worked in Memorial Sloan Kettering Cancer Centre for four years before returning to Ireland in 2010 where he established a medical oncology and medical genetics practice at the Mater Private Hospital. He is the National Clinical Lead in Cancer Genetics with the National Cancer Control Programme and a Clinical Professor of Medicine at Trinity College Dublin.
Our Services
Mater Private Network offers a comprehensive range of services across all health areas and in a choice of locations. Have a look at our service list and if you don't see what you are looking for, please contact us directly.
Learn more