Prof. Catherine Kelly
Oncology (Medical Oncology)
Secretary contact details
Locations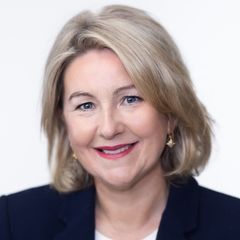 About
Education & Experience
Professor Catherine Kelly is a Consultant Medical Oncologist at Mater Private Network, Dublin.
Prof. Kelly served as the breast medical oncology lead for the Mater Misericordiae University Hospital from 2010 until 2021. She served as the medical director of the Mater Cancer Trials Unit and was the clinical lead for Ireland East Hospital Group Cancer Cluster. Prof Kelly was the chair of the Cancer Trials Ireland Breast Cancer Group from 2014 to 2021. Prof. Kelly completed her undergraduate training at the Royal College of Surgeons in Ireland and her specialist oncology training in Ireland and the UK (The Royal Marsden and St Bartholomew's Hospital, London) before gaining further fellowships and qualifications from the Odette Cancer Center, Sunnybrook Hospital, Toronto, Canada and MD Anderson Cancer Center, Houston, Texas USA.
Special Interests
Breast cancer, clinical trials, new drug therapies, endocrine therapy, triple negative breast cancer, and HER2-positive breast cancer.
Clinical Research & Professional Memberships
Prof. Kelly is the lead investigator and serves as a steering group member for many pivotal international clinical trials in breast cancer. She has published widely in the area of breast cancer and melanoma and has over 100 peer reviewed publications. She has served as an editor for the Journal of Clinical Oncology, Frontiers in Oncology, Expert Opinion in Pharmacotherapy and she has written editorials for several high impact oncology journals such as the JCO, Lancet Oncology, JNCI etc. Prof Kelly has received several awards for her research including the prestigious Thomas & Edna Naylor Memorial Award, Institute of Health, Policy, Management and Evaluation, University of Toronto, for her work on breast cancer drug interactions and she was awarded the Irish Cancer Society Clinician Leadership Award. Professor Kelly served as a board member of the National Cancer Registry of Ireland for two terms.
Our Services
Mater Private Network offers a comprehensive range of services across all health areas and in a choice of locations. Have a look at our service list and if you don't see what you are looking for, please contact us directly.
Learn more