Ms. Bríd Morris
Ophthalmology
Secretary contact details
Locations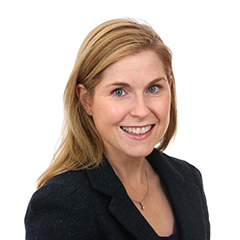 Areas of Expertise
Medical retina – age-related macular degeneration, diabetes and other retinal conditions. Glaucoma. General ophthalmology.
About
Ms. Morris graduated with an honours degree from UCD School of Medicine in 1998. After completing research in the field of glaucoma for which she was awarded an Master's of Science she began her initial surgical ophthalmology training in Dublin. Bríd trained in the Mater University, Beaumont and Temple St Hospitals, Dublin before moving to the UK. Bríd completed her Specialist Registrar training in Cardiff and Edinburgh, qualifying as a consultant ophthalmic surgeon in 2009. She undertook higher surgical training fellowships in glaucoma and medical retina, before returning to Ireland.
Bríd is the consultant ophthalmologist in James Connolly Hospital, Blanchardstown and is a retinal specialist in Mater University Hospital. Bríd is actively involved in the training of non-consultant hospital doctors. She has published several peer-reviewed papers and has a special interest in medical retina and glaucoma. She is a fellow of the Royal College of Surgeons in Ireland and a member of the Irish College of Ophthalmologists.
Our Services
Mater Private Network offers a comprehensive range of services across all health areas and in a choice of locations. Have a look at our service list and if you don't see what you are looking for, please contact us directly.
Learn more