Mr. Shane O'Neill
Orthopaedics
Secretary contact details
Locations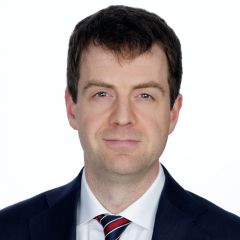 Areas of Expertise
Foot and ankle reconstruction.
About
Education & Experience
Mr. Shane O'Neill graduated from Trinity College Dublin. He completed his Higher Surgical Training (HST) in trauma and orthopaedics in Ireland in 2020. He is a fellow of the Royal College of Surgeons in Ireland FRCS (Tr & Orth) and is also a fellow of the Faculty of Sports and Exercise Medicine Ireland (FFSEM).
Mr. O'Neill was awarded a 1st class honours masters degree (MCh) from the Royal College of Surgeons in 2014 and a second masters degree (MSc) from University College Cork in 2020. He has also obtained an advanced diploma in medical law from King's Inns in 2022 and has an interest in medico-legal assessments relating to foot and ankle pathology.
Mr. O'Neill was appointed as a consultant orthopaedic surgeon in 2020 and took up his post in 2021 after completing his fellowship training in reconstructive foot and ankle surgery, trauma and foot and ankle sports injuries at Dalhousie University Halifax, Nova Scotia, Canada. Mr. O'Neill joined Mater Private Network in Dublin as a Consultant Orthopaedic Surgeon.
Special Interests
Minimally-invasive (MIS) foot and ankle surgery
Bunion correction
Hammertoes
Heel pain, plantar fasciitis, Achilles pathology
Foot and ankle injection
Medico-legal reporting
Clinical Research & Professional Memberships
Mr. O'Neill has published extensively in the orthopaedic literature including several book chapters in orthopaedic textbooks and has presented nationally and internationally.
Mr. O'Neill is the current secretary of the Irish Orthopaedic Foot and Ankle Society (IOFAS) 2023-present.
He is a member of the Irish Institute for Trauma & Orthopaedic Surgery (IITOS), Irish Orthopaedic Foot and Ankle Society (IOFAS), and European Foot & Ankle Society (EFAS).
He is a fellow of Royal College of Surgeons (FRCS Tr & Orth), fellow of the Faculty Sports and Exercise Medicine (FFSEM), and assistant clinical professor at University College Dublin (UCD).
Our Services
Mater Private Network offers a comprehensive range of services across all health areas and in a choice of locations. Have a look at our service list and if you don't see what you are looking for, please contact us directly.
Learn more