Mr. Mohammed Aboelmagd
Urology
Secretary contact details
Locations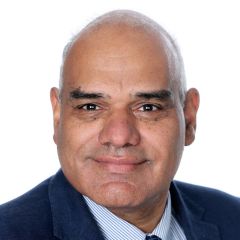 Areas of Expertise
Management of complex renal stones. Urological oncology - prostate cancer, bladder cancer, testis cancer. General urology - benign prostatic hyperplasia, male/female urinary symptoms, stones, penoscrotal procedures. Minimally invasive urological procedures.
About
Education & Experience
Mr. Mohammed Aboelmagd is a Consultant Urologist at Mater Private Network, Dublin.
Mr. Aboelmagd graduated from Ain Shams University in 1998 in Egypt. He completed structured training at Al Harm Tertiary Urology Research and Training Centre in Urology and Renal Transplant, and a Master's Degree in Urology. He obtained the MRCS (Membership of the Royal College of Surgeons), Egyptian Board of Urology and the Arab Board of Urology, demonstrating his dedication to his field.
In 2016, Mr. Aboelmagd moved to Ireland where he worked at Beaumont Hospital and Mater Misericordiae University Hospital in Dublin. He completed his higher urology training (equivalent to urology higher specialist training (ISCP)), where he gained substantial experience in minimally-invasive urological surgery.
In 2018, Mr. Aboelmagd completed the FRCS (Fellowship of the Royal College of Surgeons) examination. His became registered in specialist registration with the Irish Medical Council (IMC) and the General Medical Council (GMC) in the United Kingdom. This recognition allowed him to practice his specialized skills in urology and serve the medical needs of diverse patient populations.
Mr. Aboelmagd is Honorary Clinical Senior Lecturer, Royal College of Surgeons in Ireland, and working as a Consultant Urologist for Beaumont Hospital and Our Lady of Lourdes Hospital, Drogheda. In November 2023, he joined Mater Private Network in Dublin as a Consultant Urologist.
Special Interests
Mr. Aboelmagd's main clinical interests include complex renal stone disease. He has specialist training in minimally-invasive surgery, percutaneous nephrolithotomy and flexible ureterorenoscopy with laser fragmentation of renal and ureteric stones. He developed management of complex renal stones (percutaneous nephrolithotomy) in Waterford University Hospital and Our Lady of Lourdes Hospital in Drogheda. He also has a keen interest in general urology including BPH (TURP, Greenlight laser prostatectomy and Rezum), and penoscrotal procedures.
Clinical Research & Professional Memberships
Mr. Aboelmagd has a strong academic background with multiple peer-reviewed publications and numerous academic national and international presentations. He is a member of the Irish Society of Urology.
Our Services
Mater Private Network offers a comprehensive range of services across all health areas and in a choice of locations. Have a look at our service list and if you don't see what you are looking for, please contact us directly.
Learn more