Mr. James Hepburn
Orthopaedics
Secretary contact details
Locations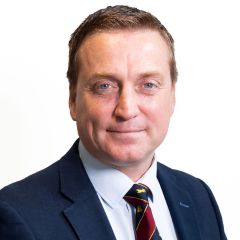 About
Education & Experience
After growing up in Vancouver, Canada and completing a Bachelor of Science in chemistry from the University of British Columbia, Mr. Hepburn moved to Ireland to pursue a career in medicine. He subsequently graduated from RCSI in 2006. Following on from this, Mr. Hepburn pursued a career in orthopaedic surgery and in 2011 he was awarded a Master of Surgery from UCD. He was then accepted to the specialist training scheme in Ireland for trauma and orthopaedic surgery in 2013. During his SpR training, Mr. Hepburn worked for two years in Cork University Hospital and the South Infirmary Hospital between 2017 and 2019 in trauma and elective orthopaedic surgery. He was subsequently awarded the fellowship of the Royal College of Surgeons in trauma and orthopaedic surgery in 2019.
In 2019, Mr. Hepburn relocated to Southampton to train in paediatric orthopaedic surgery at University Hospital Southampton, UK. Here he developed surgical skills with special interests in patellar instability, adolescent ACL reconstruction, and developmental dysplasia of the hip.
After completing this fellowship year, Mr. Hepburn returned to Ireland and worked for two years in University Hospital Limerick during the pandemic as a consultant orthopaedic surgeon with interests in paediatric surgery, trauma and hip arthroplasty. At the end of the pandemic, Mr. Hepburn wanted to further his surgical skills and was accepted to work as a fellow in the Sports Surgery Clinic in 2022. During his time there, Mr. Hepburn became proficient in ACL reconstruction, total and partial knee arthroscopy, hip arthroplasty and meniscal repair.
Special Interests
Mr. Hepburn is a consultant orthopaedic surgeon with a special interest in hip and knee primary arthroplasty including partial knee replacement, ACL reconstruction, meniscal tears, cartilage damage, and tendinopathies.
Clinical Research & Professional Memberships
Mr. Hepburn completed his masters in surgery in 2011 from UCD.
He was also awarded the Cappagh National Orthopaedic Residents prize in 2011 for his work on "Magnesium Sulfate Reduces the toxic effect of the Local Anaesthetic, Bupivacaine on Primary human chondrocytes".
Our Services
Mater Private Network offers a comprehensive range of services across all health areas and in a choice of locations. Have a look at our service list and if you don't see what you are looking for, please contact us directly.
Learn more