Mr. Gregory Nason
Urology
Secretary contact details
Locations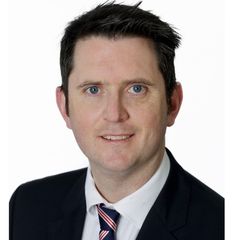 Areas of Expertise
Urological oncology - prostate cancer, bladder cancer, testis cancer. General urology - benign prostatic hyperplasia, male/female urinary symptoms, stones, penoscrotal procedures. Robotic surgery - robotic prostatectomy (prostate cancer), robotic cystectomy (bladder cancer) with intracorporeal urinary reconstruction, robotic pelvic exenteration (advanced pelvic cancers).
About
Mr. Gregory Nason is a Consultant Urologist at Mater Private Network, Dublin.
Education & Experience
Mr. Nason graduated from Trinity College Dublin in 2009 and completed higher surgical training in urology in 2018, achieving fellowship of the RCSI (FRCS Urol) and fellowship of the European Board of Urology (FEBU).
He completed a two-year accredited Society of Urologic Oncology fellowship at the University of Toronto followed by a one-year fellowship in robotic pelvic oncology at the Royal Surrey in the UK. He was appointed as a consultant urologist and assistant clinical professor to the Mater Misericordiae University Hospital in 2021, and joined Mater Private Network in Dublin in 2023.
He is director of curriculum for the Urology Higher Surgical training program and the Irish appointee to the Specialist Advisory Committee in the UK which oversees surgical training.
Special Interests
Mr. Nason's main clinical interests include prostate and bladder cancer. He has specialist training in robotic prostatectomy and robotic cystectomy. He developed the robotic cystectomy program in the Mater Misericordiae University Hospital. He also has a keen interest in general urology including BPH, stones and penoscrotal procedures.
Clinical Research & Professional Memberships
Mr. Nason has a strong academic background with over 100 peer review publications, three book chapters, more than 50 academic presentations, and numerous national and international prizes and successful grant applications.
He completed a Masters in Human Factors and Patient Safety and is a faculty member on a number of surgical training courses in the RCSI. He examines at both undergraduate and postgraduate level in the RCSI and UCD.
His professional memberships include:
Irish Society of Urology
American Urological Association
European Association of Urology
British Association of Urological Surgeons
Canadian Urological Association
Society of Urologic Oncology
Society of Robotic Surgeons
Our Services
Mater Private Network offers a comprehensive range of services across all health areas and in a choice of locations. Have a look at our service list and if you don't see what you are looking for, please contact us directly.
Learn more