Dr. Usama Boles
Cardiology
Secretary contact details
Locations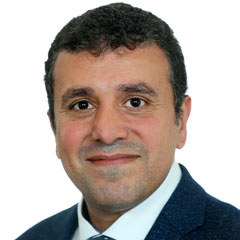 Areas of Expertise
Palpitations and arrhythmia management (simple and complex ablation procedures). Intra cardiac devices and implants (simple and diagnostics). Cardiology clinics with variety of investigations (echocardiograms, Holter monitors, loop recorders, stress test, CT coronary Angiograms, cardiac MRI and 24 BP monitors). Sudden Cardiac Death risk assessment, family screening and investigations. Ischaemic heart disease risk assessment and management.
About
Experience & Education
Dr. Usama Boles is a Consultant Electrophysiologist and Cardiologist at Mater Private Network, which he re-joined in December 2022. Since 2022 he has also practiced as a Cardiologist in Tipperary University Hospital. He has worked as a Consultant Cardiologist and Electrophysiologist since 2016 and joined Mater Private Hospital in 2017 after completion of a certified two year's advanced training programme in cardiac arrhythmia, invasive electrophysiology and intracardiac devices management at Queen's University, Ontario, Canada. Following his graduation, Dr. Boles completed his basic medical and cardiology specialist training schemes through the Royal College of Physicians in Ireland and was appointed as specialist registrar in Our Lady of Lourdes Hospital, Drogheda, and Mater Misericordiae University Hospital in Ireland. From 2010 to 2014 he trained in the Royal Free Hospital in London, Southampton University Hospital and Norwich and Norfolk University Hospital, which was in conjunction with Cambridge University for sub-specialities including congenital heart disease and pregnancy-related heart disease.

Dr. Boles completed his PhD degree in Sweden (Umeå University) with his thesis about coronary artery disease. His leading work in this area was published in internationally peer-reviewed journals and presented at distinguished international cardiology meetings. He also completed a master's degree in Cardiology at Trinity College Dublin with his thesis about Electrical Remodelling of the Heart in Early Stage of Hypertension. In addition, he has a postgraduate diploma from UCD, Dublin in Healthcare Management. He is certified through European Credits (ECs) system in advanced human biostatistics, research ethics and law from Sweden.
Sub Speciality Clinical Interests
Arrhythmia and cardiac devices management is the main focus of Dr. Boles' work. This includes invasive treatment of all cardiac arrhythmias by ablation, either complex (e.g. Complex Atrial Fibrillation and Ventricular ablations) or simple (e.g. Supraventricular ablations). He also implants simple devices for slow heart beats associated with fainting or syncope events, and complex cardiac resynchronisation devices to manage severe heart failure symptoms and defibrillator implants in primary and secondary preventions for sudden cardiac death. He also provides dedicated arrhythmia diagnostic services either remotely or through minimally invasive loop recorder implants, in addition to Sudden Cardiac Death (SCD) screening and risk assessment through various cardiac investigation tools and drug provocation tests.
Clinical Research & Professional Memberships
In addition to his clinical work, Dr. Boles has a strong academic profile with more than 50 publications as a first supervising author or co-author, and more than 25 cardiology presentations at national and international conferences in Europe and North America.
He has published a book about Coronary Artery Dilatation (a disease called Coronary Ectasia) and has co-authored and wrote chapters in another three cardiology books in the field of arrhythmia.
His distinguished career and degrees were accredited as a Fellow of the most prestigious international Cardiology and Arrhythmia committees; as a Fellow to the European Society of Cardiology (FESC), Royal College of Physicians of Ireland (FRCPI) and American Heart Rhythm Society (FHRS) and as a Fellow in the European Heart Rhythm Association (FEHRA). He participates as an opinion leader in many international guidelines in the field of arrhythmias and cardiac devices therapy.
He is a Certified Invasive Cardiac Electrophysiologist accredited by Queen's University, Ontario, Canada, with recognition as a Fellow to the Heart Rhythm Society (FHRS), USA.
Our Services
Mater Private Network offers a comprehensive range of services across all health areas and in a choice of locations. Have a look at our service list and if you don't see what you are looking for, please contact us directly.
Learn more