Dr. Pauline Diamond
Cardiology
Secretary contact details
Locations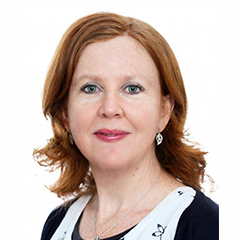 Areas of Expertise
General cardiology. Cardiac imaging. Heart failure and cardiomyopathy.
About
Dr. Pauline Diamond (MB, ChB, Bsc Hons, MD, FRCP) qualified from the University of Edinburgh in 1990, and completed her training in Newcastle-upon-Tyne, the Mater Misercordiae Hospital, Dublin and Mayo Clinic, Rochester Minnesota.
Special Interests
Dr. Diamond has particular expertise in cardiac ultrasound and an interest in general cardiology and heart disease in women.
Clinical Research & Professional Memberships
She served on the council of the Irish Cardiac Society and was Honorary Secretary of the Irish Cardiac Society from 2007-2009.
Catheterization Laboratory trailer, Mater Private Network Heart and Vascular Centre
Our Services
Mater Private Network offers a comprehensive range of services across all health areas and in a choice of locations. Have a look at our service list and if you don't see what you are looking for, please contact us directly.
Learn more