Dr. Noel Fitzpatrick
Cardiology
Secretary contact details
Locations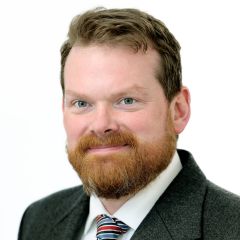 Areas of Expertise
General cardiology. Electrophysiology. Cardiac rhythm devices.
About
Dr. Noel Fitzpatrick is a Consultant Cardiologist and Cardiac Electrophysiologist at Mater Private Network in Dublin.
Education & Experience
Dr. Noel Fitzpatrick graduated with honours from the Royal College of Surgeons in Ireland in 2011 and became a member of the Royal College of Physicians of Ireland in 2014. Prior to this, he gained a first class honour's degree in financial and actuarial mathematics from Dublin City University in 2003. In 2020, he obtained a master's degree from the London School of Economics in Health Economics, Outcomes and Management in Cardiovascular Sciences. His speciality training included fellowships in electrophysiology at Mater Private Network (2020-2022) and in electrophysiology and pacing at the Liverpool Heart and Chest Hospital (2022-2023). Dr. Fitzpatrick completed his higher specialist training at the Royal College of Physicians of Ireland in 2023, and returned to Mater Private Network in Dublin in May 2023 as a consultant cardiologist and cardiac electrophysiologist.
Special Interests
Dr. Fitzpatrick's special interests are particularly focused in atrial fibrillation, arrhythmias, palpitations, syncope, supraventricular tachycardia (SVT), ventricular tachycardia (VT), electrophysiology studies, catheter ablation, pacemaker, and defibrillator insertion.
He has successfully completed the European Heart Rhythm Association (EHRA) Certification in Electrophysiology examination.
Clinical Research & Professional Memberships
Dr. Fitzpatrick believes that the best possible care for patients is provided by doctors and institutions with an active interest in clinical research. He has authored numerous articles, papers and abstracts on general cardiology and cardiac electrophysiology topics, as well as speaking at both national and international conferences. He is a member of the Irish Cardiac Society (ICS), the European Society of Cardiology (ESC) and the European Heart Rhythm Association (EHRA).
Our Services
Mater Private Network offers a comprehensive range of services across all health areas and in a choice of locations. Have a look at our service list and if you don't see what you are looking for, please contact us directly.
Learn more