Dr. Marie O'Neill - Collins
Oral Surgery, Paediatrics
Secretary contact details
Locations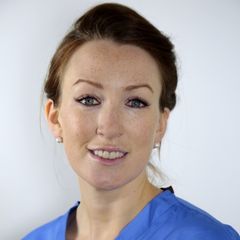 Areas of Expertise
Dentoalveolar surgery. Wisdom tooth removal. Paediatrics. Dental implants.
About
Education & Experience
Dr. Marie O'Neill-Collins is a specialist oral surgeon and runs her specialist oral surgery practice from The Institute of Specialist and Cosmetic Dentistry and Mater Private Hospital in Dublin.

Dr. Marie O'Neill-Collins graduated from Cork University School and Hospital in 2007. She subsequently worked in Edinburgh for two years, where gained her membership of the Facility of Dental Surgery at the Royal College of Surgeons Edinburgh. She then returned home where she spent some time working in private practice in Dublin. In 2011, she completed a postgraduate diploma in conscious sedation in dentistry from Trinity College Dublin. After working in private practice for a number of years, she began a three year full-time clinical doctorate in oral surgery at the Dublin Dental University Hospital. In 2014, she graduated from her oral surgery specialist training and was awarded a fellowship of the Royal College of Surgeons Ireland the same year.
She provides all aspects of oral surgery care including:
Surgical and non-surgical extractions
Third molar surgery
Pre-orthodontic surgery
Pre-prosthetic surgery
Bone-grafting
Implant placement
Soft tissue management and biopsies
Apicoectomies
Management of cysts
Treatment is provided under local anaesthesia, IV Ssdation, and general anaesthesia
Special Interests
She has a particular interest in the prevention of post-operative pain following oral surgery procedures, such as wisdom tooth removal, and this was the topic of her doctoral thesis while in Trinity College Dublin.
Professional Memberships
Dr O'Neill-Collins is a fully participating member of the VHI, Irish Life Health, Laya Healthcare and the Garda Medical Scheme.

Our Services
Mater Private Network offers a comprehensive range of services across all health areas and in a choice of locations. Have a look at our service list and if you don't see what you are looking for, please contact us directly.
Learn more