Dr. Conor McCarthy
Rheumatology
Secretary contact details
Locations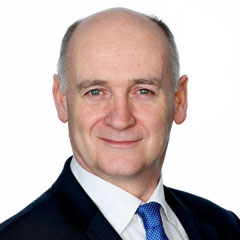 Areas of Expertise
Osteoporosis. Rheumatoid arthritis. Spondylitis.
About
Education & Experience
A graduate of University College Galway in 1986, Dr. McCarthy did his rheumatology training at Mater Misericordiae University Hospital and Bristol Royal Infirmary, and completed a Rheumatology Fellowship in 1996 at University of Michigan Medical School. Until recently he was a rheumatologist/general physician at Mater Misericordiae University and Cappagh National Orthopaedic Hospitals. He was head of the Mater Rheumatology Department for 12 years.
From 2004 to 2013 Dr. McCarthy was medical director of the Irish Rugby Football Union (IRFU). He introduced several innovations at the IRFU, including concussion testing, first aid training (SAFE – Rugby), protocols for injury reporting and prevention, and the development of the world class medical room at the AVIVA stadium. He sat on the Irish Sports Council's High Performance Committee and the Irish Heart Foundation Subcommittee on Sudden Cardiac Death, and was pivotal in the establishment of the Institute of Sport and Health at UCD.
Special Interests
Dr. McCarthy's specific areas of interest and expertise are in early arthritis, rheumatoid arthritis, inflammatory back pain/ankylosing spondylitis, psoriatic/reactive arthritis, gout and other crystal-related arthritis, osteoporosis care and musculoskeletal problems in the elderly. Dr. McCarthy also specialises in exercise prescription for musculoskeletal disorders, and in the diagnosis and treatment of localised musculoskeletal problems of the hip, knee and shoulder.
In collaboration with Dr. Pat O'Neill, Dr. McCarthy recently established the Sports Medicine and Rheumatology Centre at Mater Private Hospital. Dr. Barry Sheane has recently joined this group. This centre aims to provide comprehensive, personalised and rapid access to services, delivering modern, state-of-the-art diagnosis, treatment and rehabilitation for patients with all forms of musculoskeletal disorders.
Clinical Research & Professional Memberships
Dr. McCarthy has been a fellow of the Royal College of Physicians of Ireland (RCPI) since 1997. He has been a council member and censor of RCPI (2016–2019) and a foundation fellow and council member of the Faculty of Sport and Exercise Medicine (FSEM). He has recently been reappointed to the FSEM Council as the RCPI representative. Dr. McCarthy is a member, and previous Honorary Treasurer, of the Irish Society for Rheumatology, a member of the American College of Rheumatology, and the Royal Academy of Medicine in Ireland.
Dr. McCarthy acts as a reviewer for the American Journal of Sports Medicine and teaches on the MSc programmes in Sports Medicine at Trinity and UCD. His research interests include exercise interventions in the treatment of musculoskeletal disorders. He has recently been a co-investigator on the MOANi Study, a trial evaluating a nutritional supplement in the treatment of knee osteoarthritis (UCD and Marigot).
Our Services
Mater Private Network offers a comprehensive range of services across all health areas and in a choice of locations. Have a look at our service list and if you don't see what you are looking for, please contact us directly.
Learn more