Continuous Quality Improvement
The Goal of Quality in Healthcare is the continuous improvement of the effectiveness and efficiency of the services provided for patients and the ways and means of producing these services. To achieve continuous improvement, we
Identify problems
Implement and monitor corrective actions
Assess effectiveness of actions taken.
The Institute of Medicine (IOM) advocates six aims of healthcare: effective, safe, patient-centred, timely, efficient and equitable.
These areas of focus were evident within the Quality and Patient Safety Program for 2020 /2021. In 2020/2021 we utilised the following tools to assess the quality and safety of our performance in the delivery of safe care to our patients and families.
The core method employed for Quality Improvement in the Mater Private is the PDCA (Plan-Do-Check-Act) cycle. This is employed across departments and services and is guided by key learnings from patient feedback and experience.

---
PATIENT EXPERIENCE
All Staff are Advocates for Enhancing Patient Experience Across All Mater Private Network. We utilise a number of processes to listen to the voice of our patients and their families which includes:
one to one feedback
Patient and family meetings
using the HCAHPS Anonymous survey tool (Hospital Consumer Assessment of Hospital Providers Services) which is managed by Press Ganey and benchmarks the MPN against international centres of excellence
In 2021 we launched the Net Promoter Score (NPS) patient satisfaction survey tool which is
A systematic process of measuring patient satisfaction.
'The voice of the customer' which enables us to measure anonymous patient feedback and provide actionable insight on the patient journey across the entire Mater Private Network.
Focus on enhancing the patient experience
These insights will help inform our delivery of an improved patient experience.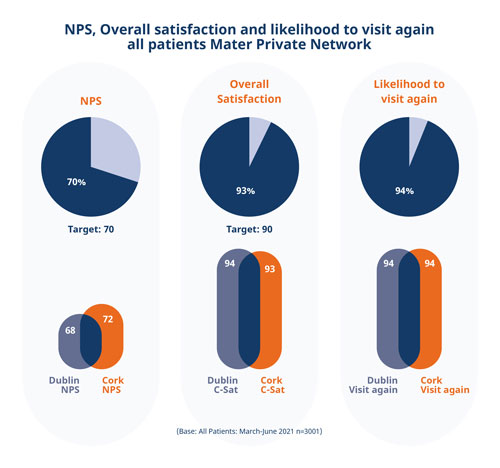 Processes of Care
In accordance with the Health Information and Quality Authority (HIQA) recommendations, the Mater Private carries out observational audits of staff compliance with the 'bare from elbow to fingertip' guideline and compliance with using the 5 moments of hand hygiene for those working in patient care areas. The importance of hand hygiene was never more important than in 2020 with the development of the COVID-19 pandemic. Our benchmark target is 90%.