Mr. Islam Gawish
Spinal Surgery
Locations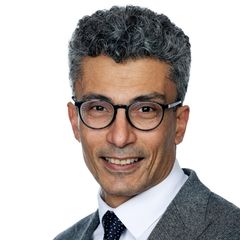 Areas of Expertise
Minimally invasive percutaneous surgery. Cervical and lumbar disc diseases. Spinal tumours. Spinal vascular malformations. Diseases of the craniocervical junction, in addition to conservative management of spinal conditions.
About
Education & Experience
In 2003, Mr. Gawish was awarded the German Certificate of Specialist Training (FA.Nch), having completed his second training programme. He concluded his first neurosurgical and spinal specialist training with a thesis exploring the management of cervical disc diseases from Orabi University, with which he obtained a clinical fellowship at Mainz University Hospital.
In 2005, Mr. Gawish finished his second thesis on endoscopic procedures in neurosurgery from Johannes Gutenberg University and was awarded the Doktorgrad der Medizin.
From 2001-2006, Mr. Gawish, was a member of the Aesculap academy faculty in Tutlingen organizing international courses on minimally invasive neurosurgery with Professor A. Perneczky; and, in 2006, the Egyptian Ministry of Higher Education, awarded him with a PhD in neurosurgery for his research, and publications in minimally invasive neurosugery.
From 2008-2021, Mr. Gawish was assigned as consultant and subsequently, deputy head of the neurosurgical department at Nordstadt Krankenhaus, Hannover, the leading teaching hospital in the German state of Lower Saxony. Here, he developed a special interest in minimally invasive spinal neurosurgery, spinal navigation, percutaneous procedures, spinal tumors and spinal trauma; working with and training generations of aspiring spinal surgeons. He authored and co-authored articles in peer reviewed journals inminimally invasive surgical techniques and clinical presentations in national, and international neurosurgical conferences.
Mr. Gawish is delighted to join the Poynton SpineCare Institute at Mater Private Network, and to be able to contribute to, and be part of, a dynamic, innovative, and experienced interdisciplinary team for the development and advancement of modern strategies for the management of spinal diseases.
Memberships & Affiliations
The German Association of Neurosurgeons (BDNC)
The Egyptian Society of Neurological Surgeons
Our Services
Mater Private Network offers a comprehensive range of services across all health areas and in a choice of locations. Have a look at our service list and if you don't see what you are looking for, please contact us directly.
Learn more