8th October 2022
Annual Cancer Masterclass for Primary Care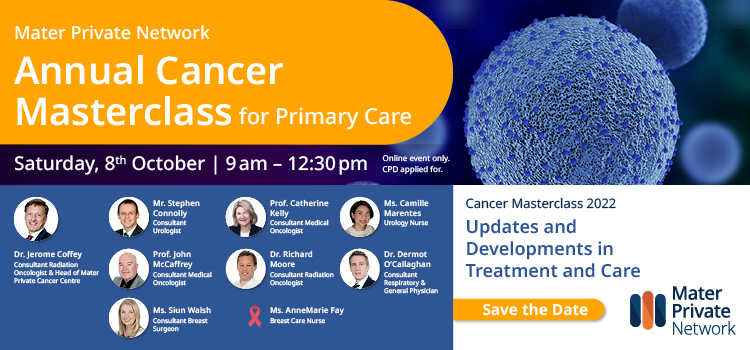 Mater Private Network is delighted to announce that the Annual Cancer Masterclass for Primary Care will take place on Saturday 8th October from 9.00am - 12.30pm.
Session 1: PROSTATE CANCER
Mr. Stephen Connolly, Consultant Urologist – "Surgery for Urological Cancers"
Dr. Richard Moore, Radiation Oncologist – "Prostate Radiation Therapy"
Prof. John McCaffrey, Medical Oncologist – "Systemic Treatment of Advanced Prostate Cancer"
Mrs. Camille Marentes, Prostate Nurse, CNM2 – "Care of Urology Patient"
Q&A Session with session speakers - GP Moderator – Dr Emer Byrne, Kells, Co Meath
Session 2: BREAST CANCER SESSION
Prof. Cathy Kelly, Medical Oncologist – "Recent Advance in Breast Cancer Treatment"
Ms. Siún Walsh, Consultant Breast Surgeon – "Breast Surgery Update"
Nrs. Annmarie Fay, Clinic Breast Nurse Specialist - "Post operative care of a breast patient"
Q&A Session with session speakers - GP Moderator – Dr Roisin Lyons, Dublin 7
Session 3: LUNG CANCER
Dr Dermot O'Callaghan, Consultant in Respiratory Medicine - "Lung cancer: making the journey a little less arduous"
Q&A Session with session speakers - GP Moderator – Dr Emer Byrne, Kells, Co Meath
To register, visit https://bit.ly/3qWHVFR