21st May 2022
Dundalk GP Study Morning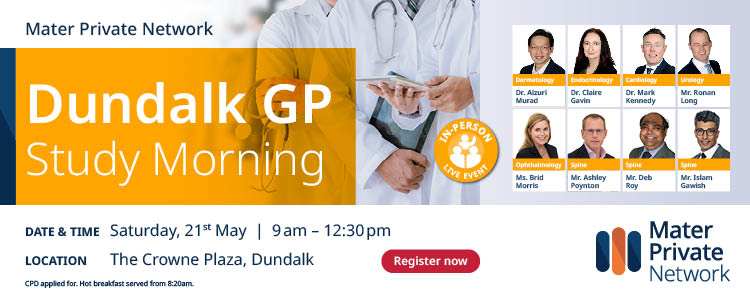 Agenda
9.00 am: Plenary Session
Dermatology
"Management of Skin Cancer in Elderly Population: Top Tips for GPs" - Dr. Aizuri Murad, Consultant Dermatologist
Endocrinology
"Advances in Weight Management" - Dr. Claire Gavin, Consultant Endocrinologist
10.00 am: Round Table Discussions
Cardiology
"Cardiology in General Practice" - Prof. Mark Kennedy, Consultant Cardiologist
Urology
"Urology Guidance and Referral Advice in Primary Care" - Mr. Ronan Long, Consultant Urologist
Spine
"Minimally Invasive Spine Surgery / Surgical Solution for the Aging Spine"
Mr. Ashley Poynton, Consultant Spinal Surgeon
Mr. Deb Roy, Consultant Spine Surgeon
Mr. Islam Gawish, Consultant Spine Surgeon
Ophthalmology
"Ophthalmology in General Practice - an Update" - Ms. Bríd Morris, Consultant Ophthalmologist
GPs are invited to bring along patient case studies to discuss at the Round Table Discussions.
This is an in-person event only.
CPD Applied For. Hot breakfast served from 8.20am.
To register, please email events@materprivate.ie or contact Shauna Crimmins on 086 173 7464.