COVID-19 Testing Centre - Dublin
Mater Private Network has its own COVID-19 Test Centres in order to facilitate a pre-procedure COVID-19 test. Please find below all the relevant information about our Dublin Test Centre, the location and the testing process.
COVID-19 tests are available only for patients who are coming into our hospital for surgery or a procedure. Due to the demand for this service, we are unable to facilitate requests for tests for anyone who is not a patient in our hospitals.
The Mater Private Dublin COVID-19 Test Centre is located in Eccles Place at the back of the hospital; it is accessible on foot and there is also access for wheelchair users. Please note that it is not a drive-through test centre. Please do not go to the main hospital entrance for testing, you cannot access the Test Centre from this entrance.
All patients who are due to have a general anaesthesia or any aerosol-generating procedure must have a COVID-19 test beforehand, in accordance with Health Protection Surveillance Centre (HPSC) guidelines. Please inquire about this from your Consultant. If you cannot make your appointment or decide not to be tested, your surgery or procedure will not go ahead.
Due to social distancing requirements and the high volume of patients, we kindly ask patients to adhere to the allocated appointment time as there is a limited waiting area in the Test Centre. Please do not arrive early or late for your appointment.
If you are travelling by car, please note that there is no set down area outside the COVID-19 Testing Centre. If you wish to drive to the hospital, there is both multi-storey and on-street parking available nearby. Parking is in high demand, particularly during busy weekday periods. Therefore, please give yourself plenty of time to park and get to your destination.
For further information about parking, please visit our Dublin Contact page.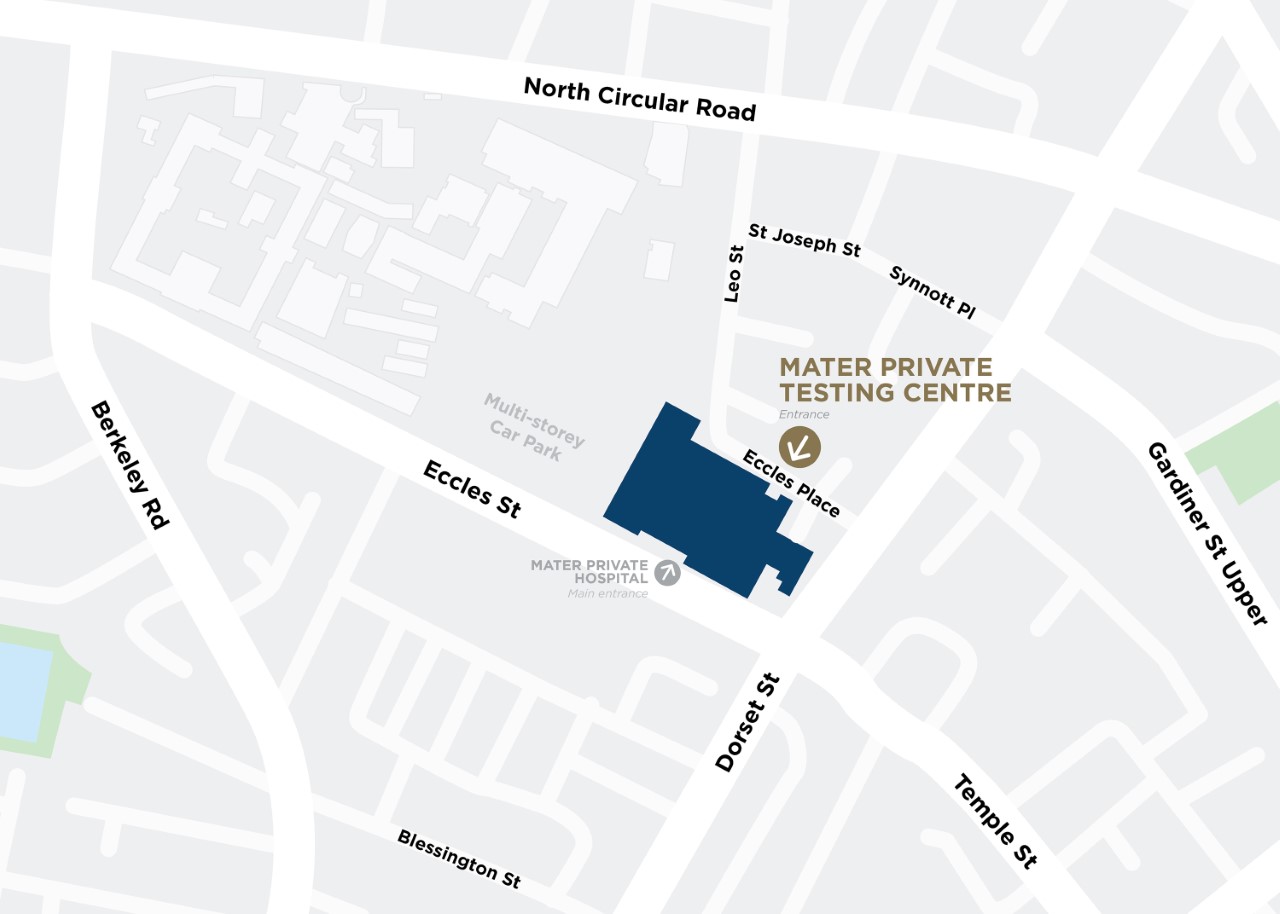 COVID-19 Testing Process
The test involves a nurse placing a swab in the back of your throat and up one nostril to the back of the nose. This test may be uncomfortable, but does not take long. Your visit to the COVID-19 Testing Centre should only take 15 minutes.
A patient who will need to be tested for COVID-19 will receive a phone call a few days prior to the surgery or procedure with information around testing.
If you have any questions please call 01 248 1848 or email COVID-19TestCentre@materprivate.ie
Find out more
Mater Private Network
Infection Prevention & Control
Learn More